Perhaps the best thing about having to out at a family function Sunday night was taping the 54th Grammy Awards and being able to speed through all the commercials (there were many) and songs I didn't care for (there were some.)
Host LL Cool J's touching prayer for Whitney Houston and  Brune Mars channeling James Brown set the tone for the evening.  Little did I know that Mars' "Runaway" would be the highlight of the show.
I was wondering who the somewhat familiar looking, long haired geezer sitting next to Paul McCartney and his new wife. It turns out it was Joe Walsh, who accompanied him on a rather lame, schmaltzy love song.  Definitely a low light of the show. Sir Paul did redeem himself a bit by closing the show with the "Golden Slumbers" medley, accompanied by Springsteen, Walsh, and Dave Grohl from the Foo Fighters.
Didn't get it: Katy Perry and Nick Minaj's attempts at performance art???
I must be turning into a softie because I really liked the Glen Campbell tribute was great – The Band Perry did "Gentle on my Mind" and Black Shelton added "Southern Nights." and Cambell himself on "Rhinestone Cowboy."
It was nice to see Brian Wilson joining Mike Love and Al Jardine for "Good Vibrations." Those guys are looking pretty old.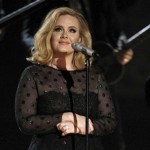 Very moving when Jenifer Hudson sang "I will Always Love You" after the In Memorium section, and that it was arranged in time for the show.
I didn't quite get the whole party in the tent next to the Staples Center.  Folks in the crowd  waving those lit stick things that the people at the airport use to guide your plane to its gate.
Of course Adele was the big winner, taking home the top awards.
Here's a complete list of the winners and nominees in all categories from the Grammy web site