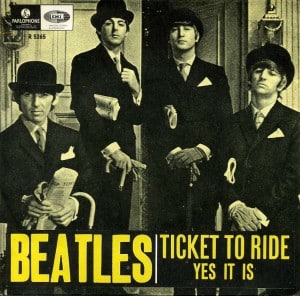 1965, The Beatles were at number one on the UK singles chart with "Ticket To Ride." Taken from the film Help! it was the group's seventh UK chart topper.
1966, "Wild Thing" by The Troggs (who were originally called The Troglodytes) was released in the US on both the Atco and Fontana labels. The song went on to reach number one. Fronted by Reg Presley, "Wild Thing" became a major influence on garage rock and punk rock. The original version was written by Chip Taylor in 1965 with his New York based group The Wild Ones.
1967, Jimi Hendrix played at the Odeon Theatre in Manchester, England.
1967, Pink Floyd performed a 45-minute set at Benn Memorial Hall, in Rugby England. Keyboardist Rick Wright was quoted in a local paper, "We started off as an R&B group, but later decided to adopt our own style. Our music is made to represent hallucinatory effects and this is enhanced by the use of lights."
1967, In the most popular Monkee poll conducted in the music paper Disc & Music Echo, Davy Jones received 63% of the votes, Mickey Dolenz 22%, Peter Tork 8% and Mike Nesmith 7%.
1968, Cream performed at Massey Hall in Toronto.
1969, John Lennon changed his middle name from Winston to Ono on the roof of the Apple building in London.
1969, In Dolton, England, the Who perform their rock opera Tommy live in its entirety for the first time.
1969, A&M signs a brother-sister act called the Carpenters.
1969, Fleetwood Mac kicked off a 10-date UK tour at the Royal Albert Hall, London. Also on the bill, BB King, Sonny Terry and Brownie McGhee and Duster Bennett.
1970, Pink Floyd performs at the Capitol Theater, Port Chester, New York.
1971, The Allman Brothers Band played at Middle Tennessee State University in Murfreesboro, Tennessee.
1971, Pink Floyd performs at Norwich Lads Club in Norwich, England.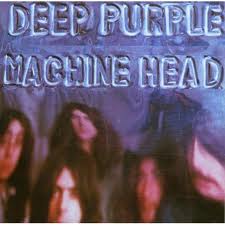 1972, Deep Purple scored their second UK number one album with Machine Head.
1973, Yes appeared at the West Palm Beach Auditorium, West Palm Beach, Florida.
1974, Tina Turner starts filming in the role of Acid Queen in the Who's film Tommy.
1975, Pink Floyd performed at the Sports Arena in San Diego, California as part of their North American tour.
1975, Rush appeared at the Indiana Convention Center, Indianapolis, Indiana.
1976, Bob Dylan played at the Belleview Biltmore Hotel, Clearwater, Florida.
1977, The Grateful Dead play at the Spectrum in Philadelphia, Pennsylvania.
1978, Bob Marley and the Wailers performed at the One Love Peace Concert in Jamaica. It was Marley's first public appearance in Jamaica since being wounded in an assassination attempt a year and a half earlier.
1977, Black Sabbath appeared at Lisebergshalle, Gothenberg, Sweden.

1978, Gerry Rafferty releases his hit single "Baker Street."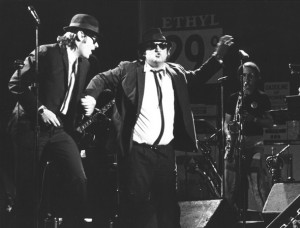 1978, John Belushi and Dan Aykroyd made their first ever appearance as The Blues Brothers on NBC television's Saturday Night Live.
1980, The Who appear at The Salt Palace Arena, Salt Lake City, Utah.
1985, Eric Clapton played at The Coliseum, Richmond, Virginia.
1989, Madonna began a three week run at number one on the US singles chart with "Like A Prayer." It was her seventh US chart topper, and a number one hit in the UK.
1991, The Dave Matthews Band played their first ever-live show when they appeared at The Earth Day festival in Charlottesville, Virginia.
2003, Songwriter Felice Bryant died of cancer. She wrote many hits with her husband Boudleaux including: The Everly Brothers, "Bye Bye Love," "All I Have To Do Is Dream," "Wake Up Little Susie," and "Raining In My Heart," a hit for Buddy Holly. Other acts to record the duo's songs include Bob Dylan, The Beatles, Tony Bennett, Simon & Garfunkel, Sarah Vaughan, Grateful Dead, Dolly Parton, Elvis Presley, Beach Boys, Roy Orbison, Elvis Costello, Count Basie, Dean Martin, Ruth Brown, Cher, R.E.M., and Ray Charles.
2008, It was revealed that '60s singer Tommy Steele took Elvis Presley on a secret tour of London in 1958 after Presley struck up a friendship with Steele. When the rock legend flew into London for a day, Steele apparently took him round the city, showing him famous landmarks such as the Houses of Parliament. For more than 50 years, Presley fans had believed the only time Elvis ever set foot in the UK was during a stop-over at Prestwick Airport in Scotland in March 1960.
2013, Richie Havens, the folk singer who opened the legendary 1969 Woodstock rock festival, died of a heart attack at 72. He died at his home in Jersey City, New Jersey.
Born on April 22: Charles Mingus (1922); Glen Campbell (1936); Jack Nitzsche, producer, songwriter (1937); Peter Frampton (1950); Pete Car, American guitarist, Muscle Shoals Rhythm Section (1950); Paul Carrack, Squeeze (1951); Shavo Odadjian, bass, System of a Down (1974)