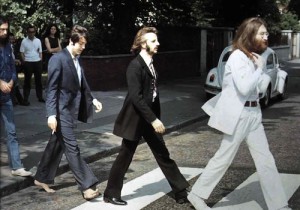 1969, The photo session for the cover of The Beatles Abbey Road album took place on the crossing outside Abbey Road studios. Photographer Iain McMillan, balanced on a step-ladder in the middle of the road took six shots of John, Ringo, Paul, and George walking across the zebra crossing while a policeman held up the traffic. The band then returned to the studio and recorded overdubs on "The End," "I Want You (She's So Heavy,") and "Oh! Darling."
1969, During a North American tour Led Zeppelin appeared at the Swing Auditorium in San Bernardino, California, supported by Jethro Tull.
1969, Yes played at Mother's, Birmingham, England.
1969, Alice Cooper performed at the Eastown Theater in Detroit, Michigan.
1969, Pink Floyd appeared at the 9th National Jazz Pop Ballads & Blues Festival at the Plumpton Race Track in Streat, England, along with Soft Machine, Keith Tippett, East of Eden, the Bonzo Dog Band, Roy Harper, The Who, and many others. It was the kickoff night of a three day event.
1970, Blood Sweat & Tears started a two week run at number one on the US album chart with Blood Sweat & Tears 3.

1970, Janis Joplin bought a headstone for the grave of her greatest influence , Bessie Smith at the Mont Lawn Cemetery in Philadelphia. Blues singer Smith died in 1937 after being refused admission to a whites only hospital.
1971, Hawkwind appeared at the Red Lion in London.
1972, Yes performed at the Paramount Theater, Seattle, Washington.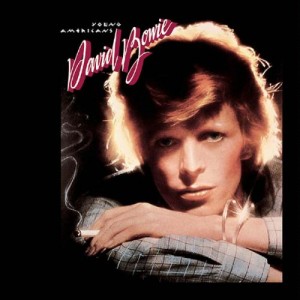 1974, Recording sessions for David Bowie album Young Americans begins at Philadelphia's Sigma Sound Studios.
1974, Crosby, Stills, Nash, and Young played at Roosevelt Stadium, Jersey City, New Jersey.
1975, Cannonball Adderley, the jazz bandleader who charted with "Mercy, Mercy, Mercy," dies from a stroke in Gary, Indiana. He was 46.
1975, The lineup at this year's Summerfest at Rich Stadium in Buffalo, New York was The Rolling Stones, Bobby Womack, and The Outlaws.
1977, Alice Cooper played at Cobo Arena, Detroit, Michigan.
1978, Neil Diamond appeared at Pine Knob Music Theatre, Clarkston, Michigan.
1979, KISS brought their act to Memorial Auditorium, Buffalo, New York.
1980, The Greater London Council banned The Plasmatics from blowing a car up on stage during their UK live debut at London's Hammersmith Odeon.
1980, The Allman Brothers Band performed at Mesa Auditorium in Phoenix, Arizona.
1981, The Pretenders kick off their second American tour in Fort Pierce, Florida.
1981, MTV makes its first live concert stereo broadcast. The band is REO Speedwagon.
1981, ZZ Top played at the Omaha Civic Auditorium, Omaha, Nebraska.
1981, The Allman Brothers Band appeared at Alpine Valley Music Theatre, East Troy, Wisconsin.
1982, The Grateful Dead are joined onstage by John Cippolina, founding member of Quicksilver Messenger Service, for the final six songs of the second set of their show at Alpine Valley Music Theatre.
1983, The Police performed at the Civic Arena, Pittsburgh, Pennsylvania.
1986, David Crosby of Crosby, Stills and Nash was released from prison after serving three years for drug and weapons possession. His conviction would be overturned by a Texas appeals court in November 1987.
1987, U2 scored their second US number one single from their Joshua Tree album with "I Still Haven't Found What I'm Looking For." The song received two nominations for the 30th Grammy Awards in 1988, for Record of the Year, and Song of the Year.
1991, On A Friday, later to become known as Radiohead, appeared at The Jericho Tavern, Oxford, England. The band had met while attending Abingdon School, a boys-only public school. "On a Friday" referred to the band's usual rehearsal day in the school's music room.
1992, A riot broke out during a Guns N' Roses and Metallica gig at Montreal stadium when Metallica's show was cut short after singer James Hetfield was injured by pyrotechnics. Guns N' Roses took the stage but frontman Axl Rose claimed that his throat hurt, causing the band to leave the stage early. The cancellation led to a riot by the audience who overturned cars, smashed windows, looted local stores and set fires.
2007, The US National Musical Publishers' Association joined other businesses in seeking to sue YouTube claiming songwriters were not being properly compensated when their music appeared on the site. The legal action had been combined with those of several other companies, including Viacom and Nickelodeon, Paramount Pictures and Comedy Central.
Born on August 8: Joe Tex (1933); John David, drums, Dr Hook (1942); Airrion Love, singer, The Stylistics (1949); Ali Score, A Flock Of Seagulls (1956); Christopher Foreman, guitar, Madness (1958); Dave "The Edge" Evans, U2 (1961); Scott Stapp, singer, songwriter, Creed (1973)