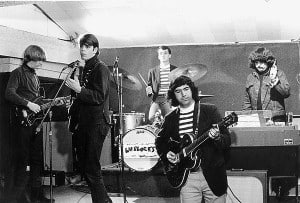 1965, A San Francisco band formerly known as The Warlocks performed for the first time under their new name, The Grateful Dead.
1966, The Beach Boys went to number one on the singles chart with "Good Vibrations," the group's third number one. As a child, Brian Wilson's mother told him that dogs could pick up "vibrations" from people, so that the dog would bark at "bad vibrations." Wilson turned this into the general idea for the song. Mike Love wrote the lyrics. Wilson recorded it piecemeal using several Los Angeles studios throughout the course of eight months, resulting in a cut-up mosaic of musical episodes marked by several discordant key and modal shifts which underlay choral fugues.
1966, The Who performed at the Odeon Theatre in Sunderland, Tyne and Wear, England.
1967, Pink Floyd play the Teenagers Sunday Club, at The Birdcage, in Harlow, Essex, England.

1967, Soul singer, songwriter Otis Redding was killed in a plane crash, aged 26. Redding and his band had made an appearance in Cleveland, Ohio on the local Upbeat television show the previous day. The plane carrying Otis Redding and his band crashed at 3:28 pm into the icy waters of Lake Monona near Madison. Redding was killed in the crash along with members from the The Bar-Kays, Jimmy King, Ron Caldwell, Phalin Jones and Carl Cunningham. Trumpet player Ben Cauley was the only person to survive the crash.
1967, The Byrds played the first of an eight night run at the Whisky A Go-Go, Hollywood, California.
1968, Led Zeppelin appeared at the Marquee Club, London, tickets cost 7/6d (about a third of a pound in pre-decimal currency) in advance. Other acts appearing at the club that month included Joe Cocker, The Who, and Free.
1969, The Allman Brothers Band performed at Ungano's in New York.
1969, Janis Joplin, Grand Funk , and opener Fat Jessie appeared at the Rochester Community War Memorial Arena in Rochester, New York.
1970, Yes played at Teesside Polytechnic, Middlesborough, England.
1971, Playing the first of two nights at London's Rainbow Theatre, in England, Frank Zappa was pushed off stage by jealous boyfriend Trevor Howell. Zappa fell onto the concrete-floored orchestra pit. The band thought Zappa had been killed. He suffered serious fractures, head trauma and injuries to his back, leg, and neck, as well as a crushed larynx, which ultimately caused his voice to drop a third after healing. This accident resulted in him using a wheelchair for an extended period, forcing him off the road for over half a year.
1972, King Crimson appeared at Town Hall in Birmingham, England.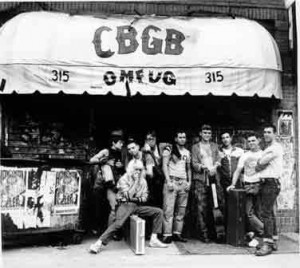 1973, The CBGB Club (Country, BlueGrass, and Blues), opened in the lower eastside of New York City. Founded by Hilly Kristal, it was originally intended to feature its namesake musical styles, but became a forum for American punk and New Wave bands such as Blondie, Television, Patti Smith, Talking Heads, and The Ramones.
1974, KISS performed at the Davenport Auditorium, Davenport, Iowa.
1976, Rush played at the Capitol Theater, Passaic, New Jersey.
1978, Bob Dylan appeared at the Coliseum, Charlotte, North Carolina.
1980, Dire Straits performed at City Hall Newcastle, England
1983, Paul McCartney and Michael Jackson started a six week run at number one on the singles chart with "Say Say Say." It was Jackson's tenth chart topper, including solo and as The Jackson's, and McCartney's 29th, including both solo and with The Beatles.
1988, Chicago started a two week run at number one on the singles chart with "Look Away," the group's third chart topper.
1998, Bruce Springsteen won a $2 million court battle to ban an album of his early songs. The case revolved around a dispute over copyright ownership between Bruce and a former manager.
1998, A recording of a 1963 Beatles concert was sold at auction at Christies in London for £25,300 ($41,500). The tape of The Beatles' 10-song concert was recorded by the chief technician at the Gaumont Theatre in Bournemouth during one of six consecutive nights which The Beatles had played. Also sold for £5,195 ($8500), was a set of autographs of five Beatles, John Lennon, Paul McCartney, George Harrison, Pete Best, and Stuart Sutcliffe. The autographs had been obtained by a fan in Liverpool in 1961.
1999, Rick Danko died in his sleep at his home near Woodstock, New York. The Canadian guitarist and singer joined The Hawks in 1963 who went on to work as Bob Dylan's backing band, along with Robbie Robertson, Richard Manuel and Garth Hudson. Renamed The Band who released their 1968 debut Music from Big Pink. The Band's final show was filmed by Martin Scorcese for the 1978 concert film-documentary triple-LP soundtrack The Last Waltz.
2003, Coldplay singer Chris Martin married actress Gwyneth Paltrow in Santa Barbara, California. The couple also announced that Paltrow was pregnant and the baby was due next summer.The couple divorced in April 2015.
2007, Led Zeppelin played their first concert in 19 years, at London's 02 Arena as part of the Ahmet Ertegun Tribute Concert. Jimmy Page, Robert Plant and John Paul Jones were joined on stage by Jason Bonham, the son of their late drummer John Bonham. More than one million people had taken part in a ballot for the 20,000 tickets available for the show with all proceeds going to Ahmet's own charity. Zeppelin performed 16 songs including two encores. A number of celebrities attended the gig including Dave Grohl, Jeff Beck, Brian May, David Gilmour, The Edge, Peter Gabriel, Mick Jagger, Kate Moss, Naomi Campbell, Jerry Hall, Priscilla Presley and Paris Hilton.
2010, The original hand-written lyrics to Bob Dylan's "The Times They Are A-Changin" sold at a New York auction for $422,500 (£267,400). Adam Sender, a hedge fund manager and art collector, outbid five others, placing telephone bids. The song, one of Dylan's most politically charged, was the title track of his 1964 album.
Born on December 10: John Hammond, producer, A&R scout (1910); Ralph Tavares, Tavares (1941); Ace Kefford, The Move, (1946); and Meg White, drums, The White Stripes (1974)