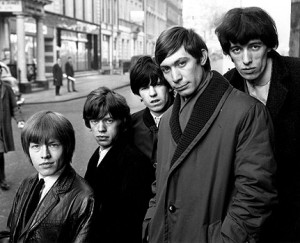 1964, The Rolling Stones had their second UK number one single with their version of "Little Red Rooster." The Stones had recorded the song at Chess Studios in Chicago, the same studios where Howlin' Wolf, Muddy Waters and Little Walter had recorded their blues classics.
1965, Rolling Stone Keith Richards was knocked unconscious by an electric shock on stage at the Memorial Hall In Sacramento, California, when his guitar made contact with his microphone.
1965, The Beatles set out on what would be their last ever UK tour at Glasgow's Odeon Cinema. Also on the bill, The Moody Blues, The Koobas, and Beryl Marsden. The last show was at Cardiff"s Capitol Cinema on December 12th.
1966, British act The New Vaudeville Band started a three-week run at number one on the singles chart with "Winchester Cathedral." It was a number four hit in the UK.
1966, Ray Charles was given a five year suspended prison sentence and a $10,000 (£6,250) fine after being convicted of possessing heroin and marijuana.
1966, The Monkees made their live debut at the International Arena, Honolulu.

1967, Pink Floyd performed two shows at the Theatre Royal in Nottingham, England. Syd Barrett missed the first show, and Davy O'List of the The Nice stepped in and ad-libbed with the band before Barrett arrived in time for the second performance.
1969, The Rolling Stones recorded "Brown Sugar" at Muscle Shoals studios. The single went on to be number one. The song was written by Mick Jagger with Marsha Hunt in mind. Hunt was Jagger's secret girlfriend and mother of his first child Karis.
1971, Yes played at the Civic Auditorium in Akron, Ohio.
1972, Pink Floyd appeared at the Palais des Sports, Caen, France as part of the Dark Side of the Moon tour.
1973, The Beach Boys and Billy Joel appeared at Kiel Auditorium in St. Louis, Missouri.
1974, the first of three nights of Pink Floyd concerts at the Hippodrome in Birmingham, England. The setlist at all three performances was Shine on You Crazy Diamond / Raving and Drooling / Gotta Be Crazy // Dark Side of the Moon/ encore: Echoes.
1975, Ronnie Wood's wife Krisse was arrested for alleged possession of cannabis and cocaine after a raid on the couple's house in Richmond. Krissie's friend Audrey Burgon was also arrested, newspapers reported that the two women were found sleeping together.
1976, A giant forty foot inflatable pig could be seen floating above London, England after breaking free from its moorings. The pig, nicknamed Algie, was being photographed for the forthcoming Pink Floyd Animals album cover. The Civil Aviation Authority issued a warning to all pilots that a flying pig was on the run, and the pig eventually crashed into a barn in Godmersham, Kent, where the farmer complained of his cows being scared by the incident.
1976, An attempt was made on Bob Marley's life when seven gunmen burst into his Kingston home injuring Marley his wife Rita and manager Don Taylor, the attack was believed to be politically motivated.
1977, Wings started a nine-week run at number one with "Mull Of Kintyre." The first single to sell over 2 million copies in the UK. It was co-written by Denny Laine who sold his rights to the song when he became bankrupt.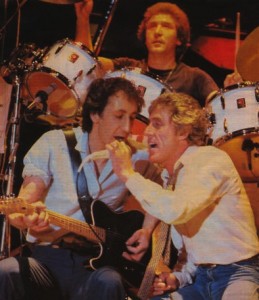 1978, The Philadelphia Furies, a soccer team co-owned by Peter Frampton, Paul Simon, and Mick Jagger, lost their first match in the North American League, 3-0 to the Washington Diplomats.
1979, A concert by The Who at The Riverfront Coliseum, Cincinnati, turned to disaster when eleven members of the audience were trampled to death after a stampede to claim unreserved seats. Another 26 fans were injured. The concert was using "festival seating" where seats are available on a first come-first served basis. When the waiting fans outside the Coliseum heard the band performing a late sound check, they thought that the concert was beginning and tried to rush into the still-closed doors.
1980, Frank Zappa appeared at the Terrace Ballroom, Salt Lake City, Utah.
1981, Black Sabbath played at the Capital Centre, Landover, Maryland.
1982, Rush performed at Madison Square Garden, New York.
1983, Duran Duran scored their first UK number one album with their third release, Seven And The Ragged Tiger, which also peaked at number eight on the US chart.
1994, Boyz II Men knocked themselves off the No.1 position on the US singles chart when "On Bended Knee" started a six week run at number one. The group's "I'll Make Love To You" had been at number one for a record breaking 14 weeks.
2001, American session guitarist Grady Martin died aged 72. He was a member of the legendary Nashville A-Team, playing guitar on hits ranging from Roy Orbison's "Oh, Pretty Woman," Marty Robbins' "El Paso," and Loretta Lynn's "Coal Miner's Daughter." During a 50-year career, Martin backed such names as Elvis Presley, Buddy Holly, Woody Guthrie, Arlo Guthrie, Johnny Cash, Patsy Cline, Joan Baez and JJ Cale.
2008, Composer, keyboardist and arranger Derek Wadsworth died in Oxfordshire, England. As a musician he worked with Georgie Fame, Alan Price, George Harrison, Mike Oldfield, Diana Ross, Tom Jones, Dionne Warwick, Simply Red. Arranger for David Essex, Dusty Springfield, Nina Simone, Judy Garland, Kate Bush, Cat Stevens, Rod Stewart, The Small Faces, The Rolling Stones and Manfred Mann.
Born on December 3: Andy Williams (1928); John Cale, Velvet Underground (1940); Ozzy Osbourne (1948); Mickey Thomas, Jefferson Starship (1949); and Duane Roland, guitar, Molly Hatchet (1952)