1968, Fleetwood Mac, Grateful Dead and Jefferson Airplane all appeared for the first of a three night run at the Carousel Ballroom, San Francisco, California.
1968, Cream played at the Grande Ballroom in Detroit, Michigan
1969, Supergroup Blind Faith, featuring Eric Clapton, Ginger Baker and Steve Winwood made their live debut at a free concert in London's Hyde Park.
1969, The Allman Brothers Band appeared at The Hangar in Columbia, South Carolina.
1969, Keith Richards and his partner Anita Pallenburg were involved in a car crash near their home in Sussex. Richards escaped serious injury but Pallenburg was taken to hospital with a broken collarbone and the car was a write-off.
1969, The Who's Tommy album entered the album chart peaking at No.2. It was the first of two full-scale rock operas from The Who, the other being the 1973's Quadrophenia.
1969, Bob Dylan and Joni Mitchell both appeared on the first ABC TV Johnny Cash Show from Ryman Auditorium in Nashville. Dylan sang "I Threw It All Away" and "Living The Blues," and duetted with Johnny Cash on "Girl From The North Country."
1970, The Who play Tommy at New York's Metropolitan Opera House.
1972, Led Zeppelin performed at the Montreal Forum, Montreal, Quebec.
1973, David Bowie played at Free Trade Hall, Manchester, England.
1974, Audiences watching ABC saw highlights from the massive California Jam concert, including performances by Emerson, Lake & Palmer and Black Oak Arkansas.
1974, On The Midnight Special, the Kinks pay host to ELO.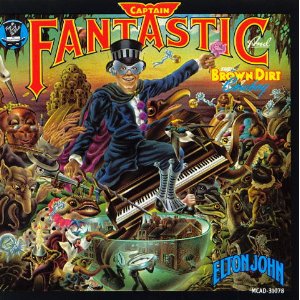 1975, Elton John's album Captain Fantastic And The Brown Dirt Cowboy, went to No.1 on the album chart, the first album ever to enter the chart at No.1.
1975, Pink Floyd begins its North American tour at Atlanta-Fulton County Stadium in Atlanta, Georgia. The band had arranged for the construction of an large inflatable pyramid to be launched at the climax of Dark Side of the Moon, but it failed to operate that evening. The next several shows were scheduled for indoor venues, so the crew used that time to fix the problem, and it worked successfully in Pittsburgh on June 20th.
1975, John Denver went to No.1 on the singles chart with "Thank God I'm A Country Boy," the singers third No.1.
1976, The Rolling Stones played at the Pavillon De Paris in Paris.
1977, Led Zeppelin played the first of six sold out nights at Madison Square Garden, in New York City.
1978, Black Sabbath performed at St. Georges Hall, Bradford, England.
1979, Van Halen appeared at the Mid-South Coliseum, Memphis, Tennessee.
1979, Blondie performed '"Sunday Girl" on UK music television show Top Of The Pops.
1980, Bob Marley And The Wailers, Average White Band, Joe Jackson and The Q-Tips all appeared at The Summer Of '80 Garden Party, Crystal Palace, London, England. Tickets £7.50 on the day.
1981, Rush performed at Selland Arena, Fresno, California.
1984, Bob Dylan appeared at Stade de Schaerbeek, Schaarbeek, Belgium
1987, David Bowie played a concert in West Berlin in front of the Reichstag with the speakers pointing towards the nearby Berlin Wall where thousands of young East Berliners stood and listened.
1990, The Black Crowes played their debut UK gig at the Marquee in London.
1997, Oasis guitarist Noel Gallagher played a five-song set at the Tibet Freedom Concert, Downing Stadium in New York City. U2, Patti Smith and Radiohead also appeared at the concert.
1998, Songwriter Wally Gold died in a New Jersey hospital aged 70. Wrote "It's My Party, "a hit for Lesley Gore and "It's Now or Never," a hit for Elvis Presley. Also a member of late 50's group The Four Esquires, produced Kansas & Gene Pitney.
2001, During their The Tour of Brotherly Love tour, Oasis, The Black Crowes and Spacehog played the first of three nights at Radio City Music Hall in New York City.
2012, Bob Welch, an early member of Fleetwood Mac who enjoyed a successful solo career with hits such as "Ebony Eyes," was found dead after an apparent suicide at home in Nashville. He was 66. Police said Welch's body was found by his wife Wendy with a single gunshot wound to the chest, and he had left a suicide note. Welch was part of Fleetwood Mac in their early years from 1971 to 1974 and worked on such albums as Future Games and Bare Trees.
Born on this day: Dean Martin (1917); Tom Jones (1940); Prince (1958); and Dave Navarro, Jane's Addiction (1967)