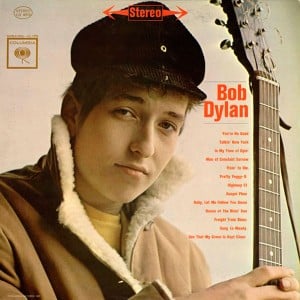 1962, Bob Dylan's debut album Bob Dylan was released in the Untied States. Initially poor sales led the record to be known around Columbia Records as "Hammond's Folly." John Hammond was producer of Dylan's early recordings and the man responsible for signing Dylan. The album was praised by the New York City weekly newspaper Village Voice as an "explosive country blues debut," but featured only two Dylan original compositions, "Talkin' New York" and "Song To Woody," with the rest being old folk standards.
1965, The Tailor And Cutter magazine ran an article asking The Rolling Stones to start wearing ties. The current fashion did not include wearing ties with shirts and many tie-makers were facing financial disaster. Mick Jagger said of the appeal, "The trouble with a tie is that it could dangle in the soup. It is also something extra to which a fan can hang when you are trying to get in and out of a theatre."
1966, The Who played Kings Hall in Stoke-On-Trent, England.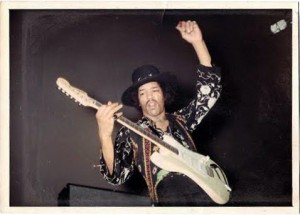 1968, The Jimi Hendrix Experience played two shows at The Capitol Theatre, Ottawa, Canada.
1968, Donovan goes to India to study under the Maharishi Mahesh Yogi.
1969, during a UK tour, Fleetwood Mac appeared at the Top Rank Club in Cardiff, Wales.
1970, Pink Floyd played at the Konserthuset in Stockholm, Sweden.
1971, Humble Pie performs at the Fillmore East in New York. In attendance are members of The Who.
1971, T Rex were at No.1 on the UK singles chart with 'Hot Love.' The group's first of four UK No.1's spent six weeks at the top of the charts.
1974, Jefferson Airplane re-named the group and became Jefferson Starship. The new line-up included Paul Kantner, Grace Slick, drummer Johnny Barbata, David Freiberg, Peter Kaukonen, Craig Chaquico and Papa John Creach.
1975, Tommy: The Movie has its Los Angeles premiere at Mann's Wilshire Theater. Pete Townshend, Keith Moon, John Entwistle, Ann-Margret, Tina Turner, Elton John, and Robert Stigwood attend. All are interviewed by David Frost for an ABC Wide World Special. Other celebrities interviewed by Army Archerd going into the theater or the afterwards party held at the Studio One Club include Paul and Linda McCartney, Ron Wood, Kenney Jones, Sally Kellerman, Dean Martin, Tommy Smothers, and Ryan and Tatum O'Neal. The special airs on U.S. television on the 26th.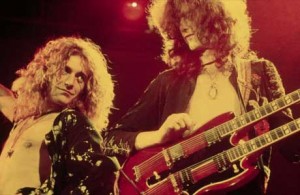 1975, During a North American tour Led Zeppelin appeared at the Pacific Coliseum in Vancouver, Canada. Tickets cost $7.50 in advance.
1976, Gary Thain bass player with Uriah Heep died of a drug overdose aged 28.
1976, Paul Kossof guitarist with Free and Back Street Crawler died aged 25, of heart failure during a flight from Los Angeles to New York, Kossof had a long history of drug abuse. His first band was Black Cat Bones alongside drummer Simon Kirke, (later of Free), and he formed Back Street Crawler after leaving Free.
1978, Billy Joel made his UK live debut at London's Dury Lane Theatre.
1979, Elton John appeared at the Odeon Theatre, Edinburgh, Scotland. Tickets £5.00
1980, Elvis Presley's autopsy report is a part of the Tennessee Board of Medical Examiners' case against Dr. George Nichopoulos. Presley's former personal physician is accused of over prescribing drugs to the King of Rock 'n' Roll. He later has his medical license revoked.
1980, Pete Townshend is filmed miming to his single "Rough Boys" for the Kenny Everett Video Show accompanied by Kenney Jones.
1981, The J Geils Band were at number one on the US singles chart with "Centerfold." Roxy Music had the UK's top single with "Jealous Guy," a John Lennon cover.
1982, Ozzy Osbourne guitarist and former Quiet Riot member Randy Rhoads was killed when the plane he was riding in crashed. After driving much of the night, the band had stopped near a small airstrip. The tour bus driver, Andrew Aycock, talked the band's keyboardist, Don Airey, into taking a test flight in a '55 Beechcraft Bonanza, the joyride ended, and the plane landed safely. Then Aycock took Rhoads and Rachel Youngblood on another flight and attempts were made to "buzz" the tour bus. The left wing clipped the bus, which sent the plane spiralling into a nearby house and bursting into flames. All three bodies were burned beyond recognition, and were identified by dental records.
1996, The second Beatles Anthology series was released. The album featured "Real Love," a track the remaining members of the Beatles recorded using an old demo track of John Lennon's The song was first recorded by Lennon in 1977 with a handheld tape recorder on his piano at home, it originated as part of an unfinished stage play that Lennon was working on at the time entitled The Ballad of John and Yoko.
1999, Bruce Springsteen and The E Street Band played the second night at the Asbury Park Convention Hall, New Jersey as warm up dates for their forthcoming Reunion Tracks tour.
2001, Keith Richards inducted Johnnie Johnson and James Burton at the 16th annual Rock & Roll Hall of Fame award ceremonies at the Waldorf Astoria in New York City. Richards also took part in the closing jam with Bono, Paul Simon, Kid Rock, Solomon Burke, Robbie Robertson and others.
Born on March 19: Paul Atkinson, The Zombies (1946); Jack Schaeffer, American singer, saxophonist, producer, Royale Monarchs (1946); Derek Longmuir, Bay City Rollers (1952); Ricky Wilson, The B-52's (1953); Terry Hall, English singer-songwriter, The Specials, Fun Boy Three, The Colourfield, Vegas (1956); Brann Dailor, American drummer, songwriter, Mastodon, Lethargy, Today Is the Day (1975)