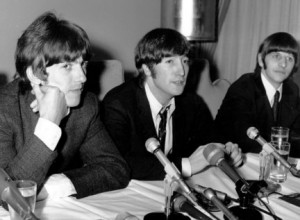 1966, John Lennon's statement that The Beatles were "more popular than Jesus Christ" was published in The London Evening Standard. "Christianity will go. It will vanish and shrink. We're more popular then Jesus now; I don't know which will go first, rock 'n' roll or Christianity. Jesus was alright, but his disciples were thick and ordinary." Christian groups in the US were outraged resulting in some states burning Beatles records. Lennon later apologized.
1967, The Rolling Stones went to number one on the singles chart with "Ruby Tuesday," the group's fourth chart topping single. "Lets Spend The Night Together" was the original A side, but after radio stations banned the song, "Tuesday" became the A side.
1967, Janis Joplin performs with the Steve Miller Band in the Journey to the End of Night event at California Medical Center auditorium.
1967, Stevie Winwood and his brother Muff Winwood announce that they will leave the Spencer Davis Group after a show on April 2. Stevie Winwood goes on to form Traffic.

1967, The Who played at the California Ballroom in Dunstable, Bedfordshire, England.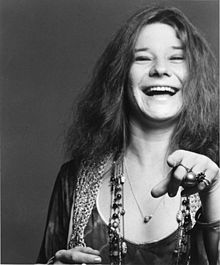 1970, In Tampa, Florida, Janis Joplin is fined $200 for using obscene language during a November 1969 concert there. Joplin is currently in Rio de Janeiro, where she hopes to "get off drugs and dry out."
1971, The Rolling Stones kicked off a 9-date UK tour at Newcastle City Hall, supported by The Groundhogs. Also on this day The Stones announced that they were to become the UK's first rock and roll tax exiles, residing in France.
1972, David Bowie performed at Southsea Pier Pavilion in Portsmouth, Hampshire, England.
1973, Pink Floyd played the first night on a 19-date North American tour at the Dane County Memorial Coliseum in Madison, Wisconsin.
1974, Queen performed at Festival Hall, Paignton, England.
1975, Led Zeppelin played at the Dallas County Convention Center in Dallas, Texas. Tickets were priced from $6.50 to $8.50.
1976, Crazy Horse appeared at the Festival Hall, Osaka, Japan.
1977, CBS released The Clash's self- titled first album in the UK. CBS in the U.S. refused to release it until 1979. Americans bought over 100,000 imported copies of the record making it one of the biggest- selling import records of all time.
1977, The Rolling Stones played the first of two nights at the El Mocambo a small club in Toronto, Canada.
1978, Bob Dylan performed at Nippon Budokan Hall, Tokyo.
1982, Frank Zappa's son Dweezil and his daughter Moon Unit formed a band called Fred Zeppelin. Their first single was 'My Mother is a Space Cadet'.
1986, songwriter Howard Greenfield died of a brain tumor aged 50. Working out of the famous Brill Building with Neil Sedaka, he co-wrote many hits including "Calendar Girl," "Breaking Up Is Hard To Do," and "Crying In The Rain" with Carole King. Also wrote TV theme songs including the theme to Bewitched.
1994, Kurt Cobain was rushed to hospital after overdosing on alcohol and drugs in a Rome hotel during a Nirvana European tour. Cobain had taken 50-60 pills of Rohypnol mixed with champagne; rumours on the internet claimed that Kurt was dead.
2001, Village People singer Glenn Hughes died of lung cancer aged 50 in his Manhattan apartment in New York. He was the original "Biker" character in the disco group who scored the 1978 UK number one and US number two single "Y.M.C.A."
2004, Brian Wilson appeared at the Clyde Auditorium, Glasgow during his 11-date UK tour. The shows saw Wilson performing the full suite of songs from his unreleased masterpiece Smile.
Born on this day: Bobby Womack, and Mary Wilson, The Supremes (1944); Chris Squire, Yes (1948); Billy Gibbons, ZZ Top (1950); Chris Rea (1951)