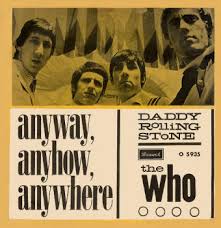 1965, The Who's second single, "Anyway Anyhow Anywhere" backed with "Daddy Rolling Stone" is released in the UK on Brunswick. Derek Johnson in New Musical Express calls is "a wild racer, with just about every conceivable gimmick…it commands attention and should do well."
1967, Jimi Hendrix signed with Reprise Records on the US Warner Brothers label. They released the guitarist's three studio albums Are You Experienced?, Axis: Bold as Love, and Electric Ladyland.
1967, Pink Floyd was at Studio 3, EMI Studios, Abbey Road, St. John's Wood in London to record songs for their debut album, Piper At The Gates Of Dawn.
1968, The Monkees appeared at The Olympia Stadium, Salt Lake City.
1968, Rolling Stone Brian Jones appeared at Great Marlborough Street Magistrates court, London on a charge of possession of marijuana, Jones was released on £200 ($320) bail.

1969, Yes played at Harrods Way Inn, London.
1970, Crosby, Stills, Nash & Young recorded "Ohio."
1970, The Allman Brothers Band appeared at Seabreeze High School Auditorium, Daytona Beach, Florida.
1971, UK rock group Free announced that they were splitting up.
1971, King Crimson played at Regal Cinema, Cambridge, England.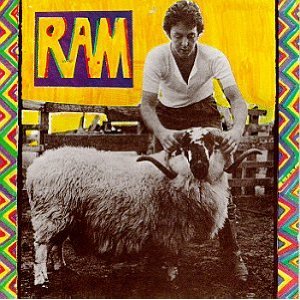 1971, Paul McCartney releases his solo album Ram.
1972, The Doors, Pink Floyd, The Faces, Family, Curved Air, Atomic Rooster, The Kinks, Rory Gallagher, Uriah Heep, Country Joe McDonald, Buddy Miles, Status Quo, Brinsley Schwarz, Spencer Davis, The Strawbs and Humble Pie all appeared at the Second British Rock Meeting, Insel Grun, Germersheim, West Germany. The festival was due to take place in Mannheim, West Germany, but after protests from the locals, the concert actually took place in nearby Germersheim.
1973, David Bowie performed at the Theatre Royal, Norwich, England.
1974, Two would-be concert promoters were arrested by police on fraud charges in connection with selling mail order tickets for a forthcoming "Elten John" show. The misspelling help detect their fraud. Police took away over $12,000 in checks.
1975, ZZ Top appeared at Boston's Music Hall
1976, The Rolling Stones begin a six-night stand at London's Earls Court. Reviews of the show are the first to describe the band as "dinosaurs."
1977, Rod Stewart was at number one on the singles chart with the double A sided single "I Don't Want To Talk About It / First Cut Is The Deepest.'
1977, Stevie Wonder started a three week run at number one on the singles chart with his tribute to Duke Ellington, "Sir Duke," his sixth US chart topper. It made it to number two in the UK.
1977, Grateful Dead performed at Lakeland Civic Center, Lakeland, Florida, a show that can be heard on Dick's Picks #29.
1978, Black Sabbath played at City Hall, Newcastle, England.
1979, Elton John started a tour of Russia, when he played the first of eight concerts making him the first Western star ever to do so.
1980, A thief broke into Electric Lady Studios in New York City, the recording studio built by Jimi Hendrix and stole five Hendrix gold records.
1982, The Hacienda Club was opened in Manchester, England. Madonna made her UK TV debut at the club when C4 music show The Tube was broadcast live. It was home to many Manchester acts and Oasis, Happy Mondays, U2, The Smiths, Charlatans, James, M People, who all played at the club.
1983, David Bowie went to number one on the US singles chart with "Let's Dance," featuring blues guitarist Stevie Ray Vaughan. It was Bowie's first single to reach number one on both sides of the Atlantic. The music video was made by David Mallet on location in Australia including a bar in Carinda in New South Wales, featured Bowie playing with his band while impassively watching an Aboriginal couple's struggles against metaphors of Western cultural imperialism.
1988, Prince scored his first UK number one album with Lovesexy. The cover, based on a photo by Jean Baptiste Mondino, caused some controversy upon release as it depicts Prince in the nude. Some record stores refused to stock it, or wrapped the album in black.
1994, The Manchester United Football Club, along with Status Quo, were at number one on the UK singles chart with "Come On You Reds."
2001, Producer, arranger and keyboardist Tommy Eyre died of cancer aged 51. He worked with George Harrison, Wham!, Dusty Springfield, and BB King. Eyre played and arranged Joe Cocker's hit "With A Little Help From My Friends" and Gerry Rafferty's "Baker Street."
2006, Madonna played the first of three sold out nights at The Los Angeles Forum in California, the first dates on her Confessions Tour. The 60-date tour grossed over $260 (£162.5) million, becoming the highest grossing tour ever for a female artist.
2011, Adele went to number one on the US singles chart with "Rolling In The Deep," taken from her second studio album, 21. The video to the song was nominated for seven MTV Video Music Awards nominations, "Rolling in the Deep" was also the Billboard Year End Hot 100 Number One Single of 2011. The song received three 2012 Grammy Awards for Record of the Year, Song of the Year, and Best Short Form Music Video.
2013, Trevor Bolder, the bassist in David Bowie's legendary 1970s backing band Spiders From Mars, died from cancer at the age of 62. Bolder appeared on the studio albums Hunky Dory (1971), The Rise and Fall of Ziggy Stardust and the Spiders from Mars (1972), Aladdin Sane (1973), and Pin Ups (1973). He joined Uriah Heep in 1976, replacing John Wetton.
Born on this day: Fats Waller (1904); Tony Sheridan (1940); Ronald Isley, The Isley Brothers (1941); Martin Carthy, English singer-songwriter, guitarist, producer, Steeleye Span, The Watersons, Waterson:Carthy, Brass Monkey, Blue Murder (1941); Vincent Crane, keyboards, The Crazy world of Arthur Brown (1943); Leo Sayer (1948); Stan Lynch, American drummer, songwriter, producer, Tom Petty and the Heartbreakers (1955); Kevin Shields, American-Irish singer-songwriter, guitarist, producer, My Bloody Valentine, The Complex, and Primal Scream (1963); Martin Blunt, bass, The Charlatans (1964); Christopher G. Wallace, aka Biggie Smalls, aka Notorious B.I.G. (1972); Adam Gontier, Canadian singer-songwriter, guitarist, Three Days Grace, Big Dirty Band, and Saint Asonia (1978)