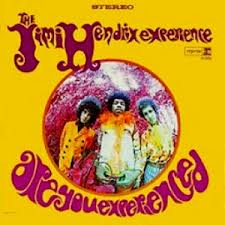 1967, Jimi Hendrix's debut LP, Are You Experienced? entered the Billboard Hot 200 album chart, where it stayed for 106 weeks, including 77 weeks in the Top 40. In 2003, Rolling Stone magazine ranked it number 15 on their 500 Greatest Albums of All Time and two years later it was selected for permanent preservation in the National Recording Registry at the Library of Congress in the United States.
1967, Working at Abbey Road studios in London The Beatles recorded 11 takes of "Your Mother Should Know," giving the song a stronger beat, but this version of the song was discarded in favor of the original recording.
1969, The Allman Brothers Band appeared at Mercer University, Macon, Georgia.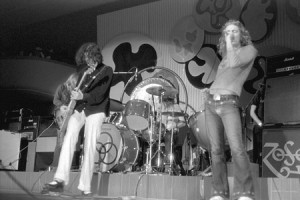 1970, Led Zeppelin won "Best Group" in the Melody Maker readers Poll. This was the first time in eight years that The Beatles hadn't won in that category.
1970, Jimi Hendrix joined Eric Burdon & War onstage to jam with them at Ronnie Scott's Club in London which would be Hendrix's final public appearance.
1971, During a North American tour Led Zeppelin played the first of two nights at Honolulu Civic Auditorium. Tickets cost $5.00. The Honolulu Star Bulletin wrote, "The real irony of Led Zeppelin's two hour performance last night was that they played their own review in their last number, "Communication Breakdown." The show itself was marred by a generally sloppy performance on the part of the group, rather noisy behavior on the part of some of the 4,000 people in attendance, and a hot and sweaty atmosphere on the part of the good old poorly ventilated Civic Auditorium. The music was limp and uneven during all but a small part of the evening."
1972, Rod Stewart had his second UK No.1 album with Never A Dull Moment.

1972, The Grateful Dead performed at the Music Hall in Boston, Massachusetts.
1972, Three Dog Night scored their third No.1 single with "Black and White."
1972, Wishbone Ash, Family, Steppenwolf, John Kay Band, Slade, Uriah Heep, Roy Wood and Wizzard, Wild Angels, Glencoe, Sunshine and Cold Comfort Farm all appeared at the Buxton Festival in Derbyshire, England.
1973, Genesis performed at Colston Hall, Bristol, England.
1974, Blue Oyster Cult played at the Paramount Theatre in Wilkes-Barre, Pennsylvania. Supporting acts were KISS and Rush.
1976, AC/DC appeared at Rhein-Ruhr-Halle, Duisburg, Germany.
1977, 29-year-old former T Rex singer Marc Bolan was killed instantly when the car driven by his girlfriend, Gloria Jones, left the road and hit a tree in Barnes, London. Miss Jones broke her jaw in the accident. The couple were on the way to Bolan's home in Richmond after a night out at a Mayfair restaurant. A local man who witnessed the crash said, "When I arrived a girl was lying on the hood and a man with long dark curly hair was stretched out in the road. There was a hell of a mess."
1978, Boston went to No.1 on the album chart with Don't Look Back.
1978, During a UK tour Blondie played two shows at London's Hammersmith Odeon, with guests The Boyfriends.
1979, The Sugarhill Gang's "Rapper's Delight" was released. While it was not the first single to feature rapping, it is generally considered to be the song that first popularized hip hop in the United States and around the world. The song's opening lyric "I said a hip, hop, the hippie, the hippie to the hip hip hop," is world-renowned.
1979, The Who played at Madison Square Garden in New York.
1980, Van Halen appeared at McKale Memorial Center, Tucson, Arizona.
1981, The Kinks performed at Pine Knob Music Theatre, Clarkston, Michigan.
1989, U2 jammed with B.B. King on a boat rented for the blues legends 64th birthday in Sydney Harbour, Sydney, Australia.
1996, Pearl Jam played the first night on their No Code tour at the Key Arena in Seattle, Washington. Because of the band's refusal to play in Ticketmaster's venue areas, they were forced to use alternate ticketing companies for the shows, which fans complained were to be out-of-the-way and hard to get to.
1998, At a Sotheby's auction a notebook belonging to former Beatles roadie Mal Evans containing the lyrics to "Hey Jude" sold for £111,500 $178,400,) a two-tone denim jacket belonging to John Lennon went for £9,200 ($14720,) and the Union Jack dress worn by Spice Girl Ginger Spice sold for £41,320 ($66,110.)
2006, Bob Dylan was at No.1 on the US album chart with Modern Times. Entering the U.S. charts at No.1, making it Dylan's first album to reach that position since 1976's Desire, 30 years prior. At 65, Dylan became the oldest living musician to top the Billboard albums chart. (85 year-old Tony Bennett broke this record in 2011 with his Duets album). The record also reached number one in Australia, Canada, Denmark, Ireland, New Zealand, Norway and Switzerland.
2008, Norman Whitfield died in Los Angeles, California from diabetes and other illnesses. The Motown songwriter and producer collaborated with Barrett Strong on such hits as "I Heard It through the Grapevine," "Ain't Too Proud to Beg," "(I Know) I'm Losing You," "Cloud Nine," "War," "Papa Was a Rolling Stone," and "Car Wash."
2009, Mary Travers from Folk trio Peter, Paul And Mary, passed away after suffering from leukemia for several years. She was 72.
2013, A souvenir booklet from the 1967 Monterey Pop Festival signed by Jimi Hendrix fetched $6,500 (£4060) on eBay. The artifact also included autographs from three members of the Mamas and Papas.
Born on this day: B.B. King (1925); Joe Butler, The Lovin Spoonful (1941); Kenny Jones, Small Faces, The Who (1941); Bernie Calvert, bass, The Hollies (1942); David Bellamy, Bellamy Brothers (1950); Ron Blair, Tom Petty and the Heartbreakers (1952); Richard Marx, singer, songwriter (1963); and Tramar Lacel Dillard, aka Flo Rida (1979)