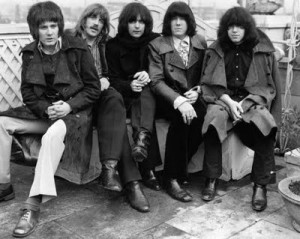 1968, Deep Purple reached the number four spot on the US singles chart with their debut single "Hush."'
1968, Jeannie C Riley went to number one on the singles chart with "Harper Valley PTA." Jeannie won a Grammy for the best female country singer of 1968.
1968, Madame Tussaud's Waxworks in London gave The Beatles their fifth image change of clothes and hair in four years.
1969, Pink Floyd appeared at Het Kolpinghuis, Nijmegen, the Netherlands.
1969, The James Gang played at the Ingman Room, in the Student Union at the University of Toledo in Toledo, Ohio.
1970, Freda Payne was at number one on the UK singles chart with "Band Of Gold."
1970, The Who performed at Vejlby-Risskov Hallen, Aarhus, Denmark.

1971, The first edition of the new BBC TV music show The Old Grey Whistle Test was aired. Presented by Richard Williams, the show included film clips of Jimi Hendrix from the Monterrey Pop Festival playing "Wild Thing," Bob Dylan playing "Maggies Farm," plus America and Lesley Duncan live in the studio.
1971 Peter Frampton quits Humble Pie to start his solo career. His debut album, Wind of Change, follows the next year.
1972, Yes performed at Cobo Arena, Detroit, Michigan.
1973, The Grateful Dead appeared at The Spectrum in Philadelphia, Pennsylvania.
1973, Neil Young played at the Roxy Theater in Los Angeles.
1974, Barry White went to number one on the singles chart with "Can't Get Enough Of Your Love Baby," the singers first and only solo chart topper
1974, Carl Douglas was at number one on the singles chart with "Kung Fu Fighting." The song was recorded in 10 minutes, had started out as a B-side and went on to sell over 10 million copies and made Douglas a one-hit wonder.
1975, Kraftwerk performed at Fairfield Halls, Croyden, England.
1975, The Allman Brothers Band performed at the Boston Garden, Boston, Massachusetts.
1976, ZZ Top appeared at the Convention Center in Las Vegas, Nevada.
1977, Rush played at the Paramount Theatre, Portland, Oregon.
1978, Yes performed at Olympia Stadium, Detroit, Michigan.
1979, Cheap Trick released Dream Police. It was the group's fourth studio album. Featured the hit title track, plus "The House Is Rocking (With Domestic Problem", "Gonna Raise Hell", and "Need Your Love."
1980, Blue Oyster Cult played at the Springfield Civic Center, Springfield, Massachusetts.
1980, Bob Marley collapsed while jogging in New York's Central Park. After hospital tests, he was diagnosed as having cancer. Marley played his last ever concert two nights later at the Stanley Theater in Pittsburgh, Pennsylvania.
1982, The Go-Go's played at Lakeland Civic Center, Lakeland, Florida.
1983, Rush appeared at Radio City Music Hall, New York.
1984, Bruce Springsteen performed at the Civic Arena, Pittsburgh, Pennsylvania.
1985, With the help of heavy MTV exposure, "Money For Nothing" gave Dire Straits their first number one single.
1987, American jazz bassist Jaco Pastorius died from injuries sustained in a fight. Pastorius was trying to enter the Midnight Bottle Club in Wilton Manors, Florida, where he'd been banned, and became involved in a fight with a bouncer, Pastorius fell into a coma, and was put on life support. In 2006, Pastorius was voted "The Greatest Bass Player Who Has Ever Lived" by readers in Bass Guitar magazine. He was a member of Weather Report and worked with various acts including Joni Mitchell and Herbie Hancock.
1992, Parlophone Records released "Creep" by Radiohead. The single didn't chart but featured in the majority of critics lists at the end of the year.
1996, The Fugees scored their second UK number one single with "Ready Or Not." The chorus in the song is based on "Ready or Not Here I Come (Can't Hide from Love") by The Delfonics. The Fugees previous single "Killing Me Softly" was so successful that the track was deleted and no longer supplied to retailers while still in the Top 20 to make way for the new single.
2001, A Tribute to Heroes was aired commercial-free on most of the major US TV networks. The live program was organized to raise money following the terrorist attacks on the Pentagon and New York's World Trade Center. Neil Young, Tom Petty, Paul Simon, Billy Joel, U2, Limp Bizkit, Bruce Springsteen and Pearl Jam all performed. Celebrities who worked the telephones to take pledges included Jack Nicholson, Jim Carrey, Whoopi Goldberg, Goldie Hawn, Robin Williams, Meg Ryan, Cuba Gooding Jr., Kurt Russell, Adam Sandler and many more.
2011, John Du Cann, guitarist for Atomic Rooster died after a heart attack. As he died without heirs, the bulk of his personal collection of 75 guitars, 30 amplifiers, records and CDs was auctioned in January 2012.
2011, A contract revealing that The Beatles refused to perform in front of a segregated audience at the Cow Palace in Daly City, California on August 31st, 1965, sold for $23,033 (£14,395) at an auction in Los Angeles. In addition to the desegregation clause, the contract guaranteed the band $40,000 (£25,000) and at least 150 police officers to provide security at the show.
2012, Jimmy Page, Robert Plant and John Paul Jones hold a press conference in London, to launch the Celebration Day concert film of the 2007 O2 Arena reunion show.
Born on September 21: Jimmy Young (1923); Leonard Cohen (1934) Don Felder, The Eagles (1942) David Hood, bassist Muscle Shoals Rhythm Section (1943); Bobby Tench, Jeff Beck Group, Ginger Baker, Freddie King (1944); GC Cameron, The Spiners (1945); Dave Gregory, XTC (1952); Tyler Stewart, drummer Barenaked Ladies (1967); Faith Hill (1967); David Silveria, Korn (1972); and Liam Gallagher, Oasis (1972)