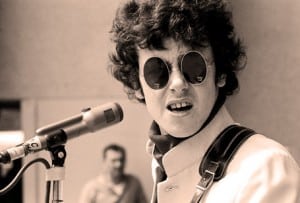 1966, Donovan went to number one on the US singles chart with "Sunshine Superman," a number two hit in the UK. The track featured then Yardbird and future Led Zeppelin guitarist Jimmy Page.
1967, During a 10-date tour of Sweden, The Jimi Hendrix Experience appeared at the Liseburg in Gothenburg, Sweden.
1968, After a two week absence, Ringo Starr rejoined The Beatles. Upon Ringo's return to the studio, he found his drum kit covered with flowers to welcome him back.
1969, King Crimson appear at Toby Jug pub in Tolwort, in Southwest London.
1970, Freddie King and Johnny Winter performed at the Fillmore West in San Francisco, California.
1970, Alan Wilson, guitar player with Canned Heat, was found dead at fellow band-member Bob Hite's garden in Topanga Canyon, Los Angeles aged 27. Canned Heat had the 1970 UK number two and US number 26 single "Let's Work Together."
1970, Led Zeppelin performed at the Sports Arena in San Diego, California. A critic for the local newspaper, the Union-Tribune wrote, "The performance was old-time religion without a message and without a moral, although there was plenty that was physical for the congregation of young people. There was the hand clapping, the shouting, the parading in the aisles – and finally there was the self-induced frenzy that was once the trademark of some evangelical religious sects."

1970, It was reported that the Bob Dylan bootleg album Great White Wonder had sold over 350,000 copies worldwide.
1970, Arthur Brown was arrested at the Palermo Pop '70 Festival in Italy, after he set fire to his helmet during the performance of his hit "Fire," and stripped naked on stage.
1971, Led Zeppelin play one night at New York's Madison Square Garden. Top ticket price was $7.50 (£4.69).
1971, The Allman Brothers band appeared at the Place de Nations in Montreal, Quebec.
1972, David Bowie performed at the Hardrock Concert Theatre, Stretford, in Manchester, England. The 3000-seat venue hosted some of the biggest names in England during its brief three year existence.
1973, The Rolling Stones appeared at Eisstadion, in Mannheim, Germany.
1974, David Bowie performed at the Gibson Amphitheatre, Universal City, California.
1975, An all-star jam session took place at a party in Los Angeles for actor Peter Sellers' 50th Birthday. The line-up for the group who named themselves the Trading Faces, Bill Wyman on bass, Ronnie Wood, Jesse Ed Davis, and Danny Kortchmar on guitars, Keith Moon, organ and drums, Joe Cocker, vocals, Nigel Olsson, drums, and David Bowie and Bobby Keys on sax.
1976, Marshall Tucker Band played the Omni Coliseum, Atlanta, Georgia.
1977, The month after his death, Elvis Presley had 27 albums and 9 singles in the Top 100 charts in the UK. Moody Blue was the number one album while "Way Down" was on top of the singles chart, equaling The Beatles, with each amassing 17 number one hits.
1977, Studio engineer Keith Harwood was killed in a car crash shortly after he left a recording session with The Rolling Stones. Harwood was noted for his work at Olympic Studios with David Bowie, Diamond Dogs, and The Rolling Stones albums It's Only Rock 'n' Roll and Black And Blue. He also engineered a number of Led Zeppelin albums, including Houses Of The Holy, Physical Graffiti and Presence. The Rolling Stones dedicated their album Love You Live to the memory of Harwood.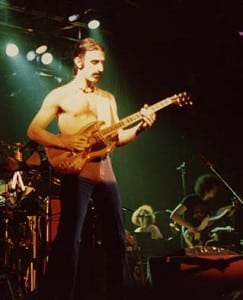 1978, Frank Zappa, Scorpions, Brand X, John McLaughlin, Ten Years After, Joan Baez, and Genesis appear at Ludwigsparkstadion in Saarbrücken, Germany.
1979, Van Halen appeared at Kaikan Hall, Kyoto, Japan.
1980, Blue Oyster Cult played at Veterans Memorial Coliseum, Phoenix, Arizona.
1981, The Allman Brothers Band performed at Red Rocks Amphitheatre, Morrison, Colorado.
1982, The three day US Festival in San Bernardino, California took place featuring, Tom Petty, Fleetwood Mac, The Police, The Cars, Talking Heads, The Kinks, Ramones, B52's, The English Beat, Gang Of Four, The Grateful Dead, Pat Benatar, Jackson Browne. Apple Computer co-founder Steven Wozniak bankrolled the festival.
1983, The Eurythmics went to number one on the singles chart with "Sweet Dreams (Are Made Of This").
1988, UB40 had their first number one single with "Red Red Wine." The song, taken from their album Labour of Love, was a cover of the 1968 Neil Diamond hit song.
1990, R.E.M. started recording sessions for their Out Of Time album at Bearsville Studios, Woodstock, New York.
1991, During a European tour, Nirvana recorded "Dumb," "Drain You," and "Endless Nameless" at Maida Vale studios in London for the BBC Radio 1 John Peel show.
2002, The Rolling Stones 40th anniversary Licks tour kicked off at the Fleet Centre Boston. Tickets for the best seats cost $224 (£140). The world tour would see the band playing to over two and a half million fans during over a hundred shows.
2004, Songwriter and producer Billy Davis died in New York after a long illness. He co-wrote Jackie Wilson's, "Reet Petite" and the jingle "I'd Like To Buy The World A Coke." Aretha Franklin, James Brown, Marvin Gaye, The Supremes and Gladys Knight all recorded his songs.
2010, Mike Edwards, a founding member of ELO, was killed in a freak accident when a giant bale of hay tumbled down a hill and crashed into his van. The 62 year-old cellist died after the 600 kg (1,323 lb) bale rolled down a steep field in Devon, southern England, smashed through a hedge and careered on to the road. Edwards played cello with ELO from their first live gig in 1972 until he left in January 1975. He quit the band in 1975 to become a Buddhist, changing his name to Deva Pramada and making his living by teaching the cello.
Born on this day: Freddie King (1934); Al Jardine, Beach Boys (1942); George Biondi, Steppenwolf (1945); Eric Bell, Thin Lizzy (1947); Donald Brewer, drummer, Grand Funk Railroad (1948); Steve Jones, Sex Pistols (1955); Stefan Kendal Gordy, aka DJ Redfoo, LMFAO (1975)
Today in rock history main page