It's time to observe the biggest New Orleans style party and conclude year number seven with adventure # 317 of The 3D RadioActivity, as we celebrate Uncle Marty Gras, so we hope you are ready for some good Crescent City cajun zydeco have your dancing shoes on!
Laissez les bons temps rouler!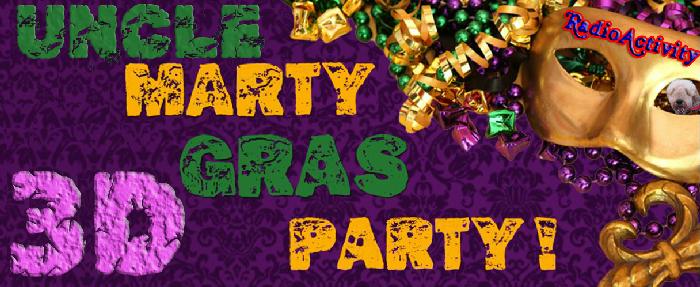 Listen in ->[jwplayer mediaid="21028″]
Download it right here:
https://archive.org/download/The3dRadioactivity/3dradio_20160207-UMG16.mp3
So we have almost completed our seventh year of The Award Winning 3D RadioActivity, but wait…   There's more!  Not only our closing number, we will be back next time to start it all over again with some Lonesome Love songs to honor my great Uncle Valentine's birthday, and the holiday.  Got any suggestions?  Be sure to let me know!  Send email, or leave a message & a "Like " on our Facebook page  which has links to the archives of all the earlier episodes and graphics in the photo section.
Look for us online https://archive.org/details/The3dRadioactivity to find all of the previous shows, and thanks to  TuneIn .com, MileHiRadio ,Theacidflashback.com, &  InternetFM, Capt Dan, & Commander Bill at WMCE, Bill in Laredo, Hoss in Denver, Peter along with professors Jeff and Scott in San Francisco, Norm, Mark and everyone at XRT along with Radio Dave, Steve and The Other Marty in Chicago, and especially you for tuning in, living, laughing and loving along with us over time, and we hope you will continue to tell your friends all over the world as we continue our quest for global musical enjoyment.
Rock On!
"It's not true I had nothing on, I had the radio on."
…Marilyn Monroe