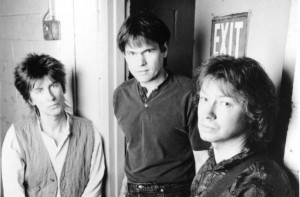 Review by Elliott Childs of Rokpool
The more I hear the words post-punk used to describe bands and records, the more unsure I become of what the hell it actually means. I know that it technically means "after the punk movement" but that seems really bloody vague even for a musical genre. I've heard it used to describe hardcore punk, electro-rock, grunge and even acts that I'm fairly sure are first wave punk bands.
I think to me it best describes bands like Mission Of Burma who took the punk attitude and attack on board but explored different avenues with it in the early 80's. It would be easy for me to lump Shoes into the vast melting pot of genres that seems to compile the collective idea of post-punk, based on some of the strong influences I can hear in their music and the time during which they were at their most prolific. But I won't. Especially since their first album came out in 1975.
Their sixth album Silhouette is one of the more underrated records in their catalogue which may have something to do with the fact that it never got a release in the USA despite the band being based in the somewhat hopefully named, Zion, Illinois. They were dropped by Elektra in 1982 and retreated into their home studio, without one of their original members, to work on this album which was released on Demon Records in Europe in 1984.
Read the complete article at Rokpool.com