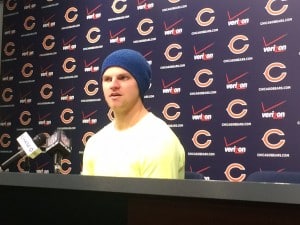 with Dave Rusch and Steve Leventhal
..join us with our guest Les Grobstein from the Score 670 in Chicago, as we look at the Bears quarterback mess.  Highly paid Jay Cutler is being benched to give journeyman Jimmy Clausen a chance to start against Detroit on Sunday.  Everything that can go wrong for the Monsters of the Midway has gone wrong in 2014. Will it cost Marc Trestman his job?  Will Cutler have a new address next Fall?  We discuss this and more.  Ryan the intern looks at the big games this weekend with playoff implications.
Hear interview audio from Trestman, Cutler, and Clausen, plus Lions coach Jim Caldwell, Aaron Rogers, Julius Peppers, and Russell Wilson of Seattle.
Don't miss cameos from Dan Patrick and Bob Costas.
[jwplayer mediaid="15406″]