One question will be on everyone's mind this Sunday night when the Los Angeles Rams take on the Chicago Bears.
Can you still win with defense?
The phrase "defense wins championships" has long been a saying your high school football coach barked at you, or your dad called out from the recliner in the living room. But this notion has been dispelled by today's NFL, a league in which the three best teams, the New Orleans Saints, Kansas City Chiefs and Los Angeles Rams, produce offensively at an astonishing rate of over 34 points per game. 300-yard passing games have reached a point where anything below is considered an off day for the likes of Drew Brees, Jared Goff and Pat Mahomes II. Teams are increasingly turning towards innovative, offensive-minded head-coaching candidates. Names like Oklahoma's Lincoln Riley and former Texas Tech head coach Kliff Kingsbury are popular names in NFL circles that have become open to blurring the line between college and pro-style offenses. Primarily-shotgun offenses, jet-motion, an increasing reliance on play-action; these are the new norms of the NFL. As evidenced by the standings, the top of the league's food chain shares a common thread: Explosive offense.
Super Bowl 52 was a 41-33 fireworks display that saw over 1,000 yards of total offense, despite the fact that the Philadelphia Eagles came in with a defense that was fourth in the league in points allowed per game. Though they lost, the Patriots' offensive explosion in Super Bowl 52 and their AFC Championship victory over a historically great Jacksonville Jaguars' defense foreshadowed what was to come in 2018: Teams don't win with defense; the top five defenses in defense-adjusted value over average, or DVOA*, are a combined 29-31 (Bears, Broncos, Bills, Ravens and Jaguars), while the top five offenses by the same metric are 47-12-1 (Chiefs, Rams, Chargers, Saints and Steelers). The evidence that an offensive-first philosophy is the only way to keep up in today's NFL is overwhelming, and it was why hires the hires of Frank Reich and Matt Nagy were lauded, while defensive-minded hirees like Steve Wilkes and Matt Patricia were met with raised eyebrows.
And yet, the Cowboys still beat the Saints on Thursday night last week.
It was bizarre to watch the Saints muster only 10 points and lose to a flawed Cowboys team. There probably wasn't anyone out there who thought 13 points would be enough to beat the Saints, but the relentless defensive effort Dallas trotted out was just that, and it surely put a smile on the face of your uncle who spent 25 minutes complaining about "what happened to the game he loved" at Thanksgiving dinner.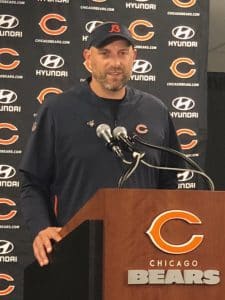 The Cowboys' victory raised the question we started with: Can you win with defense in today's NFL? Is it a sustainable model? We won't truly find out until the Lombardi Trophy is hoisted, but Sunday Night Football's matchup with the Rams and Bears may further illuminate the answer to that question.
This past offseason, Bears GM Ryan Pace appeared to take a page from a growing trend the Rams helped start: Pair your young quarterback with a savvy, play-calling head coach. It took only one year for Rams head coach Sean McVay to turn Jared Goff from an all-time bust to top-10 NFL quarterback. Like the Rams, the Bears surrounded their young quarterback, Mitch Trubisky, with as many weapons as possible, from coaches to personnel. It was clear this team was to be built around the quarterback.
That philosophy didn't stop Pace from building an elite defense, however, and he completed that construction with the trade for Khalil Mack. The Bears' defense has blossomed into a top-flight unit that leads the league in takeaways and defensive DVOA, and is top five in sacks, team defense and points allowed. The offense, on the other hand, has shown flashes but has yet to truly set into a groove.
Nagy talked about the growing process on Thursday: "I'm learning too. I'm not where I was, football-relationship wise with Mitch right now… than I was in year five with Alex (Smith). That takes time. When you get to that point, that's when the well-oiled machine starts rolling."
The Bears may end up like the Seattle Seahawks did, in that they rode a dominant defense until their quarterback became the team's identity. For now, however, this is a team defined by its defense, not its offense that is ranked 20th in yards per game and DVOA.
The Bears should still be able to move the ball though. The Rams' defense, despite having one of the NFL's best players in Aaron Donald, is vulnerable; they are 18th in yards allowed per game, 19th in points allowed per game, and 15th in defensive DVOA, just a tick above league average. The Bears appear to be getting Mitch Trubisky back this week, and the added layer he brings will let Nagy call the plays needed to get this offense going.
"It's like riding a bike," Nagy said. "You just get right back onto it, so it'll be interesting to see as he continues to feel good, how that works with the players too."
The real strength of the Rams lies in their second-ranked offense. Not much can be said about the Rams' offense that hasn't already been said. Sean McVay, at the young age of 32, has transformed Jared Goff and Todd Gurley into two of the biggest weapons in the NFL. He is one of the best play-callers in the league and he knows how to exploit any weakness he sees. Goff executes the offense to perfection and Gurley's versatility as a rusher and receiver makes him the focal point of an offense that shreds teams off play-action.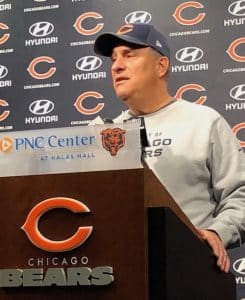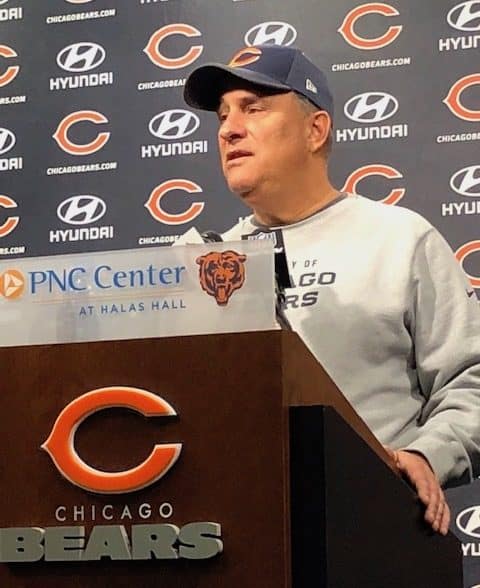 Defensive coordinator Vic Fangio summed it up: "They got really good scheme, really good players, really good play-caller. It's a tough assignment, no doubt about it. But we got to show up.
"I've never bought into you know, there was a couple questions in here a couple weeks ago after the 54-51 game that, 'Is this the new way of the NFL?'" Fangio later said before a chuckle. "You guys heard my answers. That was the talk of the week."
This all gets us back to an extension of our earlier question. Does the Bears' elite defense place them in the NFL's elite? This musing applies to any defensive-first team, not just the Bears. How viable of a model is this? It wasn't enough for the Jaguars last year. We won't truly know the answer to this question until the playoffs, but Sunday will at the very least give us some clarity. Signs have pointed to defense not being an answer to sustainable success. But if the Cowboys could put a boot on the Saints, perhaps the Bears can do the same to the Rams. Maybe their defense can, in fact, carry them on a deep playoff run.
Maybe defense can still win championships.
*DVOA: An advanced metric created by Football Outsiders that rates a team's efficiency by measuring the success on a given play compared to the league average.
Follow on Twitter: @crbevins11 @radiomogul
Hear audio from Matt Nagy, Vic Fangio, Trey Burton and Roquan Smith