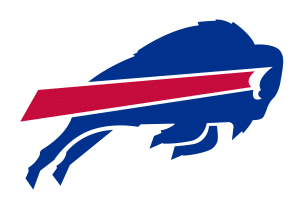 The Chicago Bears will travel to Buffalo to play the Bills for the first time since 2010 this Sunday, and with them, they bring the hopes of extending their NFC North lead.
Taking care of business
The Bills' offense has been abysmal this season. They sit squarely at the bottom of the NFL in passing offense and passing touchdowns and they are 30th in total offense. They have also posted the worst DVOA rating through eight games of any team since 1988. Rookie quarterback Josh Allen, the seventh overall pick, is hurt, as well as the recently added Derek Anderson, meaning Nathan Peterman is likely to trot out Sunday for the Bills.
"We just got to defend their offense, you know, regardless of who's playing quarterback for them," defensive coordinator Vic Fangio said. "I know that they like [Peterman] there. You know he did earn the starting job coming out of camp. They pulled him for the rookie [Allen] at some point. And I do know that they have a lot of confidence in him, and we got to be able to defend their offense. And he's a capable player."
Despite the respect Fangio shows to him, Peterman's statistics show low completion rates, minimal offensive production and a bevy of interceptions thrown. The Bears' defense has eleven interceptions on the year, good enough for second in the NFL. This is an opportunistic bunch that has seen improved takeaway ability by players like Kyle Fuller and Eddie Jackson, and should add to that mark against a quarterback who has four interceptions in two games of extended play.
Regardless of whether or not Khalil Mack plays, the Bears' defense is more than capable of taking it to the Bills, a team that has struggled to move the ball in any sense this season. If the Bears play their game, the Bills' offense, like the Jets', will struggle to get anything going. Sound tackling and forcing an inadequate quarterback to make throws he can't make should stymie any offensive momentum.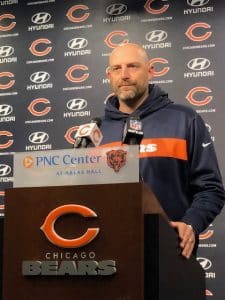 A sneaky Bills' defense
While the offense has struggled mightily this season, the Bills' defense has played somewhat under the radar. They sit fourth in the league in defensive DVOA* and feature DE Jerry Hughes LB Lorenzo Alexander and CB Tre'Davious White.
"How hard they play is the first thing that stands out," offensive coordinator Mark Helfrich said. "It doesn't matter the score. You know, they had a couple tough ones earlier in the year and they were playing their tails off when they were down big. They were playing their tails off when they were up big.
"The edges, obviously with [Hughes] and probably now [Alexander]. They can put a lot of pressure on the quarterback. They're very exotic but sound in how they rush the pressure and how they attack protections."
Trubisky has struggled with exotic looks and pressures at times this season. Part of the growing process is learning how to handle misleading looks at the line of scrimmage.
"They've been very good for a long time at all their stops defensively so it's a huge challenge and a unique challenge," Helfrich said.
Make no mistake, the Bills have a solid defensive group that has been burdened by an incapable offense. A huge part of their gameplan will be to keep Trubisky off balance and prevent him from getting into a rhythm. The short game is how to beat a defense that can rush the passer, as has been seen with teams who find success against the Bears' defense. Trubisky hitting quick completions early will force the Bills to put more men in coverage than in pass-rush. When that happens, Trubisky will have the time to find chunk plays and really get the ball rolling.
Depth will be tested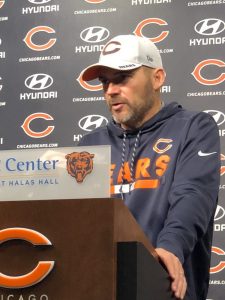 The Bears look to be without Kyle Long for some time and neither Khalil Mack or Allen Robinson practiced on Thursday. Their defense did well without Mack last week and the same should continue against an opponent inferior to the Jets, but the loss of Long could be more impactful against a stout defensive front like the Bills.
"Harry's a great teacher," coach Matt Nagy said of offensive line coach Harry Hiestand. "He knows how to really dive into the details with each player on how their technique is or what he sees with a defensive player, specifically."
Though Eric Kush is still on the injury report, Nagy said he believes he will be good to go Sunday. Opposite Kush will be rookie James Daniels, a player who has developed nicely since he came to Chicago.
"There's just a little hesitancy with some of the things he's done, but very excited about his future," Helfrich said.
The interior blocking is crucial to the Bears' inside zone run scheme. How Daniels and Kush step up in Long's absence will be vital to the Bears' run game this week, and for the foreseeable future.
*DVOA: An advanced metric created by Football Outsiders that rates a team's efficiency by measuring the success on a given play compared to the league average.
Twitter: @crbevins11 @radiomogul
Hear audio from Matt Nagy, Vic Fangio and Mark Helfrich: