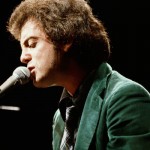 Absence makes the heart grow fonder. Things change… and so do opinions. Several years ago I thought that my days listening to Billy Joel were over. It had been many years since he released a record, and even many more since he released a really good record.
I mistakenly passed on the Billy Joel/Elton John stadium tours of the 1990s. Like many, I pretty much stopped caring about him when the trials and tribulations of his personal life began to take center stage in the media instead of his music. But things do change.
First there was the 12/12/12 concert at Madison Square Garden where in my opinion, Joel literally stole the show. He was so much better than any of the other performers on the bill that day,
Then there's the YouTube video that recently made the rounds featuring Joel at a Q&A at Vanderbilt University. A student named Michael Pollack asks Joel if he can accompany him on piano while he sings "New York State Of Mind." What ensues is a brilliant off-the-cuff performance that has deservedly gone viral. (http://www.youtube.com/watch?v=G50OMB-nYpA)
Another Joel "touch" came to me via the Clive Davis biography, a book where Davis takes responsibility for everything that happened in rock music during the late '60s and '70s. In the book he retells the story of how he came to sign Billy Joel.
All of this recent attention led me to dig out my trusty WLIR broadcast recording of his concert from C.W. Post College in Brookville, NY recorded on May 6, 1977. And it doesn't get any better than hearing Joel in his prime before a home town crowd introducing songs from his forthcoming album The Stranger.
There were few better songwriters during the 1970s, and Joel's strongest songs are here for your ears to feast on including fierce takes of "Miami 2017," "Angry Young Man," "The Entertainer," "Captain Jack," "Piano Man" and a song that saw its debut at this show "Scenes From An Italian Restaurant."
Of course there were the ballads. Joel ranks right up there with Paul McCartney when it comes to writing ballads, and he did not disappoint at this show with performances of "Just The Way You Are" (which was a relatively unknown new song at the time), "Summer Highland Falls," "James," "She's Got A Way," "New York State Of Mind" and "I've Loved These Days."
The clear highlight of this show is today's Song Of The Day, "The Ballad Of Billy The Kid," especially for the audience's reaction when he gives a call out to his home town in the last verse. If only moments of spontaneity like this could be bottled up forever.
Track Listing
Miami 2017
Somewhere Along the Line
Summer, Highland Falls
Piano Man
Scenes From an Italian Restaurant
James
Angry Young Man
New York State of Mind
Traveling Prayer
Just the Way You Are
The Entertainer
You Are My Home
Root Beer Rag
She's Got A Way
The Ballad Of Billy The Kid
I Loved These Days
Captain Jack
Worse Comes to Worse
Ain't No Crime
Say Goodbye to Hollywood
Weekend Song
Souvenir