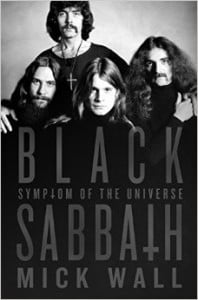 This book should be sub-titled "A Cautionary Tale on the Perils of Drug Abuse". After the release of their first two albums, the eponymous Black Sabbath and the stone classic Paranoid, Black Sabbath were poised on the cusp of superstardom, along with fellow Birmingham, England native son John Bonham and Led Zeppelin. But then began not years, but decades, of drug abuse and its ensuing chaos, and instead of reaching the pinnacle, they began a decline that ultimately put them in the unfortunate position of being the actual inspiration for Spinal Tap. This then is an ode to what might have been, with glimpses of all that wasted potential surfacing over the years since their heady, heavy heyday.
I, like many of the classic rock generation, lost interest after that second album, upon reading this book, I discovered why. As no more than a casual fan, who, like many, felt that (and still do) the only "true" Black Sabbath consisted of Tony Iommi, Bill Ward, Geezer Butler and Ozzy Osbourne, I learned a lot from this book.  For instance, that Tony Iommi (much like the late Chris Squire with Yes) was the only constant in a revolving door lineup, which at times included some of my favorite Seventies artists, such as Cozy Powell, Glenn Hughes, and Ian Gillan, that Sharon Osbourne was responsible for Ozzy's solo career, which completely eclipsed the Sabbath of the time, and that Sharon ultimately wrested control of the band from Tony.
As far as rock bios go, this is one of the better ones I have read, it actually falls into the "can't put it down" category. I found myself staying up much later than I intended on several occasions (the lot of the aspiring writer being that one has to keep the soul-crushing "day job") as I read of Tony's domination of the band (he actually bullied Ozzy on the schoolyard when they were growing up, and that relationship continued for many years), Bill Ward's hellish existence as the butt of the band's jokes (Tony actually set him afire to the tune of third-degree burns), Ozzy's live-to-party life, their failed attempts at outlandish stage props (yes, they actually attempted to re-create Stonehenge on stage) and much, much, more. Author Mick Wall actually worked with the band as a publicist, so many of the accounts are first-hand, but where other authors present that type of access in a wink, wink, nudge, nudge, I'm-cooler-than-you'll-ever-hope-to-be fashion, Wall presents the story in a matter-of-fact yet fascinating manner.
Bottom line is, if you're a child of the Sixties, teenager of the Seventies, or just want to know more about one of the most influential bands of all time, this is a must-read.