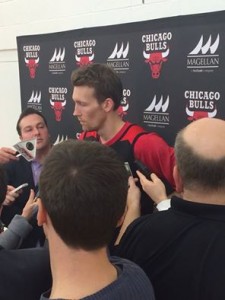 Since Tom Thibodeau has taken over as head coach of the Chicago Bulls, they have never been a team to look back and wonder, "What if?" — not that anybody would blame them if they did. Two major knee injuries to Derrick Rose have robbed Chicago from a legitimate chance to compete for a title, and the Bulls again failed to land their main free agent target this offseason in Carmelo Anthony.
"I don't want to look backward," Thibodeau said after Wednesday's practice. "It didn't work out then, but it worked out for everybody in the end. We feel very good about having the opportunity to get Pau."
Indeed the Bulls definitely hit the jackpot signing a rejuvenated (and healthy) Pau Gasol, and rookie sensation Nikola Mirotic, (who continues to improve every time he steps on the court). Chicago has yet to reach full potential, mainly due to injuries, but still find themselves 15-9 and 1st in the central division heading into Thursday night's matchup against Carmelo's New York Knicks.
Meanwhile Melo might be wondering "What if?" in New York, where his Knicks are a putrid 5-22. Anthony has recently stated that he, "was close to signing with the Bulls," but in the end chose to remain in New York, where he signed a five-year, $124-million deal.
Joakim Noah, who spent the offseason trying to persuade Anthony to come to Chicago, also does not dwell on the what ifs.
"I am a live-in-the-moment kind of guy," Noah said Wednesday when asked if he wonders what life with Melo could have been like. "I don't try to dwell on what could have happened. I'm really happy with what we have right now. Were a deep team, and we are striving for something pretty different for what they're striving for in terms of goals this year."
Bulls forward Mike Dunleavy knows things could have been much different for him this season and was asked if he every wonders where he would be if Anthony had become a Bull.
"Not really, I would be playing basketball somewhere," Dunleavy answered. "Obviously I am really happy to be here. Sometimes It's nice to have a Bentley, but a Honda Accord will get you there as well."
So while Melo may be a flashy, explosive Bentley the Bulls just couldn't afford, they seem to be just fine settling for the less glamorous "Honda" Dunleavy had mentioned. Gasol is averaging 18.7 points and 11.9 rebounds so far this season and more importantly is already becoming a great teammate.
"He definitely brings a good attitude, a positive attitude to the team," Noah said Wednesday. "He's just a good guy to have around, somebody who has seen it all. Its good to have a new voice in the locker room."
Click below for more coverage of Weds practice.