There's definitely something going on in Australia as evidenced by the recent surge in psychedelic rock bands coming from the land down under. Groups like Tame Impala, The Murlochs, Pond, and King Gizzard are the most recent exports from the country that brought us AC/DC, INXS, Little River Band, and yes, the Bee Gees.
Melbourne's King Gizzard & the Lizard Wizard have been incredibly prolific, with fifteen album since the release of their first full-length album 12 Bar Bruise in 2012.
Members of the group include Stu Mackenzie (vocals, guitar, bass, keyboards, flute), Ambrose Kenny-Smith (vocals, harmonica, keyboards), Cook Craig (guitar, bass, vocals), Joey Walker (guitar, bass, keyboards, vocals), Lucas Skinner (bass, keyboards), Michael Cavanagh (drums, percussion), and Eric Moore (drums, percussion). Kenny-Smith and Craig are also members of The Murlochs.
King Gizzard's sound originally was garage rock, but with the ongoing output of material, they have also crafted jazz, soul, prog rock, and their latest iteration, heavy metal, with the release of Infest the Rat's Nest.
All of these multiple personalities make for very entertaining concerts. Throughout the show, the band seemingly morphs into Metallica, T Rex, ZZ Top, or Pink Floyd. There is no standard set list. Every show is different. There might be some overlap, but the song selection and order is as varied as a Grateful Dead set list.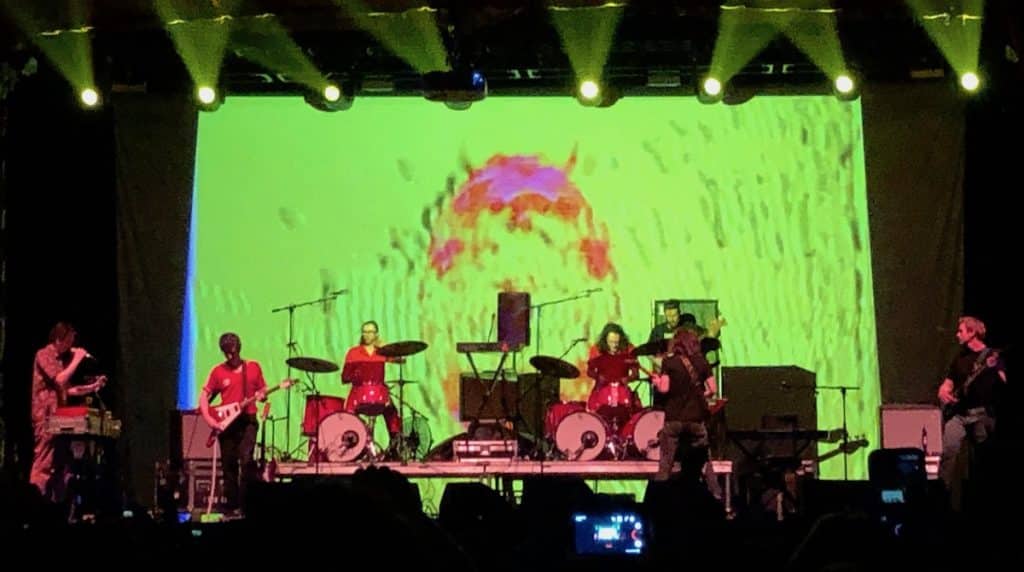 At their recent show at Chicago's Aragon Ballroom, King Gizzard rocked the house for a blistering ninety-five minute, nineteen song set, that featured five tracks from their earlier 2019 release, Fishing For Fishies. That album is much more psychedelic and a boogie-woogie album. It is very reminiscent of Marc Bolan and T Rex.
Between the grinding, bumping, thumping, head banging sounds of Rats' Nest, and the shoe gazing moments from Fishies, there was something for everyone, and the crowd loved it.
Catch this band while they are still playing medium sized venues. It won't be long before they are selling out the large amphitheaters and the basketball arenas.
Setlist – Aragon Ballroom, Chicago – August 24, 2019
Self-Immolate
Mars for the Rich
Plastic Boogie
Inner Cell
Loyalty
Horology
I'm in Your Mind
I'm Not in Your Mind
The Balrog
Evil Death Roll
Rattlesnake
Sleep Drifter
Billabong Valley
This Thing
The Bird Song
Boogieman Sam
Cyboogie
Planet B
Hell
Here's a few videos from different albums to demonstrate their versatility.