from the SRN News wires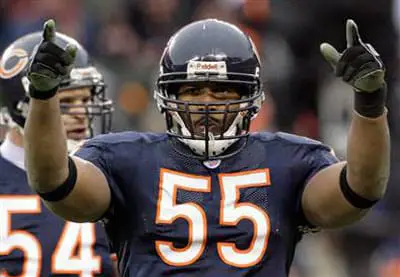 LAKE FOREST, IL – The Chicago Bears had five players selected to the 2012 Pro Bowl this season: LB Lance Briggs, RB Matt Forté, ST Corey Graham, CB Charles Tillman and LB Brian Urlacher. The five Pro Bowl selections for the Bears are the most for the team since having eight players named to the Pro Bowl following the 2006 season.
This is the seventh consecutive Pro Bowl nod for Briggs (2005-11 seasons). He is just the fourth linebacker in franchise history to be selected to seven straight Pro Bowls joining Hall of Famers Dick Butkus (eight straight), Bill George (eight) and Mike Singletary (ten). He is the ninth player overall to be voted to seven Pro Bowls as a member of the Bears organization and the seventh to be selected seven years in-a-row. In 2011, Briggs paces the team with 140 tackles and is tied for the team lead with eight tackles for losses to go along with one interception and two forced fumbles.
Forté was selected to his first Pro Bowl and is the first Bears running back to be named to the Pro Bowl since Neal Anderson following the 1991 season.  Prior to missing the last three contests with a knee injury, Forté led the NFL in yards from scrimmage (1,487), ranked third in the league in rushing yards (997) and ranked fourth among all running backs with 490 yards receiving. His 4.9 rushing average in 2011 is a career high and sixth among NFL running backs with at least 150 rushing attempts this season.
Graham was named to his first Pro Bowl and is the eighth Pro Bowl selection by a Bears special teams player under Special Teams Coordinator Dave Toub: KR Devin Hester (2006-07, '10), KR Johnny Knox (2009), ST Brendon Ayanbadejo (2006 and 2007) and K Robbie Gould (2006). Graham leads the Bears with 20 special teams tackles after coaches' review this season. Since entering the NFL in 2007, Graham ranks tied for second in the NFL with 74 special teams tackles, based on press box statistics. Graham plays on five of the Bears six special teams units (punt coverage, kickoff coverage, punt returns, kickoff returns and field goal blocks).The Bears punt return coverage unit ranks second in the NFL this season allowing just 5.4 yards per return.
                This is the first Pro Bowl nod for Tillman and he is the first Bears cornerback to be named to named to the Pro Bowl since Nathan Vasher following the 2005 season. The ninth-year veteran ranks third on the team with a career-high 107 tackles. Tillman leads the team in pass break ups (11) and is tied for the team lead in forced fumbles (three) and fumble recoveries (two) while adding two interceptions and an interception return touchdown. Since entering the NFL in 2003, Tillman leads all defensive backs with 27 forced fumbles and his 29 interceptions is tied for ninth in the NFL overall during that time.
                Urlacher was named to his eighth Pro Bowl (2000-03, 2005-06 & 2010 seasons). He is the sixth player in team history to be voted to eight Pro Bowls as a member of the Bears organization. This season, Urlacher is second on the Bears with 125 tackles and third with seven tackles for losses. He is tied for the team lead with three interceptions and two fumble recoveries and has added a fumble return touchdown.