It is, unofficially, safe to say that regardless as to how the rest of the season goes, the Cubs have had a successful season.  With the understanding that the team was built for success further down the road, most likely in the 2016 and 2017 seasons, the Cubs have done enough to garner such an evaluation.  However, with the overwhelming success the Cubs have had this summer, it appears that everyone from fan to front-office man for the Cubs could not have projected this level of success.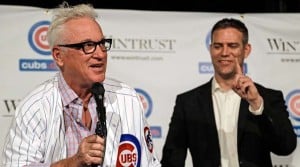 First, one can take a glimpse at the roster. The big names most expected to be everyday contributors surprised many by not being there, due to injury or other extenuating circumstances.  Baez has been in triple-A most of the year and upon being called up in early September, has done well, but still lacks a robust home run line many thought would accompany him on his trip from Iowa. Luckily, his strikeout totals have not followed him either.  Soler has been hurt and is questionable to return for the playoffs.  His season also has been overshadowed by the shocking success of the rest of the roster.  Though the belief in Starlin Castro had begun to wane in the minds of fans, usually due to a citation of the lack of discipline he has displayed at times throughout his career, few thought he would struggle as much as he has.  However, the unexpected success on both sides of the ball from Addison Russell has picked up the slack, allowing a motivated Castro to step up in pinch-hitting and second base spots.  Though many were excited about Rizzo, few thought his strikeout totals would be so much lower, his RBI counts would be so much higher, and his physicality would improve at such a clip, as evident from his increase in stolen bases and growing defensive prowess. Chris Coghlan's resurgence since his rookie of the year performance in 2009, along with his positional flexibility has pleasantly surprised many as well. To the surprise of many fans who knew nothing but the name "Bryant" for the first half of the season, whom also, without a doubt, has made big-time plays in big-time moments, Kyle Schwarber has impressed, heavily.  His maturity at the plate combined with his willingness to play a new position, Schwarber has blown away many Northsiders of both the devout and casual persuasions. The biggest shocker though, has been of course, Jake Arrieta.  Lester was supposed to be the ace.  Arrieta was supposed to be good, but most students of the game and of the Cubs, thought that he could still be good but it would be nearly impossible to continue his success from last season. The fact that he has thrown a no-hitter is a(n amazing) thing in itself.   The fact that he has the most wins in the National League and has a sub-two ERA are things of a different type, a Cy Young (at least conversationally) type.  
When looking for other reasons as to how the Cubs have recorded success, you can look at the schedule.  The team has won almost twice as many series as they have lost. In addition, they have swept seven opponents including the likes of potential playoff squad, the New York Mets (swept them twice, once in a four-game series), their divisional rival Milwaukee Brewers (twice, once in a four-game sweep), and defending World Series champs, the San Francisco Giants (four-game sweep), four times in which they completed a four-game sweep. But equally impressive is the fact that they have only been swept twice all season.  Furthermore the Cubs have had many little win-streaks of anywhere from four to nine games throughout the season with their longest losing streak totalling five.  Despite their ability to stack wins, the Cubs really haven't been streaky in their losses.  The boys in blue haven't collectively been in a legitimate slump this season, despite a roster filled with relative inexperience.  A testament to Joe Maddon's managerial talent, the Cubs resistance to stringing losses together is an especially impressive feat due to fact that the pressure is always on in the NL Central.   
This aversion to spiraling out of control could help them weather any storms that come their way in the playoffs. The problem presumably will be winning the one-game playoff. The hope is that Arrieta will make that if not easy, at least a little easier. If the Cubs do fall short though, that's what it will be called, "falling short."  Things will have "gotten in the way" of their success.  The Cubs overachieving narrative, juxtaposed with the youth of their roster makes them a squad with potential, which is why this year has been and will continue to be identified as a successful one, regardless of the final outcome.  Because this is a team with "potential." People weren't expecting this, so the pleasant surprise is enough success to appease most involved parties.  The unfortunate flipsides of potential, prospects, and unexpected success are the expectations that accompany them.  With the pressure on from defending World Series champs, good teams like the Nationals, and divisional monsters like Pittsburg and St. Louis, the Cubs know something about stress.  But the stress of being booed for flyouts, one-run innings, and being on the other side of all those one-run, or walk-off decisions, might be a different kind of pressure than the Cubs are used to, one from an expecting fanbase.   So for now, the Cubs will bask in their success this season, but one hopes that Maddon, Epstein, and Hoyer continue to be as savvy as they have been, as they have their biggest season in at least a decade coming up next year, one characterized by expectations galore.