I'm Uncle Marty, and on this episode we are starting the seventh year of  The 3D RadioActivity.by playing songs about what Sean and I like in your wardrobe.  He has been known to steal socks a long time ago, so we will clean out the closet to see what else we can find because ours is full of vinyl…  I've got around a hundred feet of it ~ all to play just for you.   You will find parts of these two oldies on the shelf above, the hangars in front of you and on the floor below.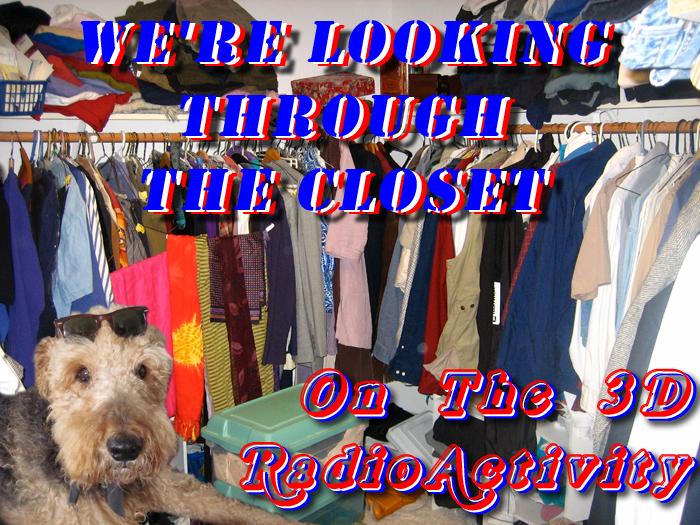 Dial it up directly to listen:  [jwplayer mediaid="16353″]
or download Looking through the 3D Closet here:
https://archive.org/download/The3dRadioactivity/3dradio_20150201-FashionI.mp3
Look for us online at https://archive.org/details/The3dRadioactivity to find all of the previous shows, and all over the web via TuneIn .com, Theacidflashback.com, &  InternetFM too.
So what kind of fashion haven't we covered recently?   Shoes?  Check.  Dress?  Copy that.  Rings and hats?  Did those too.  We covered all of them and more this time, so the only music left will truly be focused on the Dedicated Followers of Fashion.  I've got a pretty good playlist, however if you have one I don't then I want to hear about it.  Email me or leave a "Like " and a message on our Facebook , page.  We had over 1500 visits last week, I hope you were one, and that you will tell your friends about us.   After that Sean and I are planning something romantic for Valentine's Day…  Another musical massacre for all the broken hearted, so you won't be alone.
Always remember the rules: Have Fun & play nice with others.  Oh, hang up your clothes too!  Thanks for turning us on and tuning us in!
"Education is When You Read the Fine Print.
Experience is What You Get If You Don't."
~ Pete Seeger