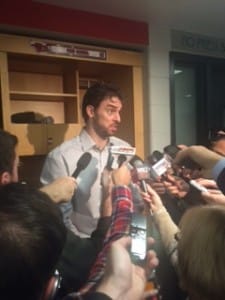 The highest scoring team in the NBA, the Dallas Mavericks, were the spoilers for the Bulls homecoming after a 4 – 3 circus trip.
The Mavs (13-5) and Bulls (11-6) were evenly matched as they played like playoff bound teams from their respective conferences.
The first quarter flew by with each team shooting 20+ shots and over 40% from downtown and when the dust settle the Bulls had a 26 – 25 lead going into the 2nd quarter.
The ex-Wisconsin star came into the game only shooting 32.7% from three but looked like Ray Allen tonight, going 6 – 6. Harris's performance helped the Mavs take a 59 – 47 lead going into half time.
The most entertaining matchup of the evening was watching rookie Nikola Mirotic guard his childhood hero Dirk Nowitzki. Mirotic was compared to Dirk coming out of the draft and was impressive in the loss, scoring 15 while adding 4 rebounds and 3 assist. While Dirk was held in check all night, going 8 for 22 and scoring 22 points.
Monta Ellis is a shooter. An " I don't care if I am open or if we have 22 seconds left on the shot clock" shooter who was feeling it against the Bulls. Ellis finished with 38, on 16 – 35 shots.
The Bulls were able to cut the deficit to 6 going into the 4th thanks to a 9 – 0 run to start the 3rd quarter. The Bulls also have their best defensive quarter, only giving up 21 points and scoring 8 points off of 5 Dallas turnovers.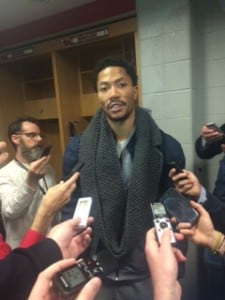 The Bulls depth kept them in the game even without the services of Taj Gibson or Doug McDermott. Hinrich (27), Mirotic (26) and Brooks (15) minutes were able to give Rose, Noah and Butler rest for the fourth quarter.
The 4th got exciting down the stretch as the Bulls took a 4 point lead with just over 3 minutes left but were not able to close out the Mavs in regulation. With a 3 point lead, Hinrich fouled Monta Ellis with 1.2 seconds left, sending the 79% FT shooter to the line for 3 attempts. Ellis hit all three FT to tie the game at ­­­­­­­108.
Rose was unable to make his 3 point attempt as time expired.
Rose 0 – 1 at the buzzer.
Dallas controlled the tempo for the first OT as they built a 3 point lead with 7.2 seconds left at 121 – 118. Rose found himself with the ball after a broken play and heaved up a floater from the top of the key and banked it in as time expired.
Rose 1 – 2 at the buzzer.
The Bulls were never able to get any momentum in either of the overtime periods and it cost them. Outscored 11 – 8 in the 2nd OT, the Bulls and Rose's final shot came up short in the end.
Rose 1 – 3 at the buzzer.
Dallas 132, Bulls 129
Rose and Thibs talk about the Mavericks Bulls game and the status of the team
@WesEvans24
Podcast: Play in new window | Download (14.0MB) | Embed