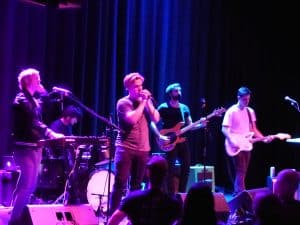 Looking to add some new music to your library? Start with VHS Collection. No, not those dusty old tapes that are just taking up shelf space, but a New York based trio of very talented songwriters and musicians.  Two childhood friends and a high school pal have teamed up to deliver a mashup of synth based, guitar infused, rock music.
They parlayed successful NYC club gigs into a Lollapalooza appearance and enough plays on Spotify to quit their day jobs and make a full time foray into recording and a national tour.
My inbox is chock full of press releases for new bands dropping singles, albums, and debuting new videos. On a lark, I delved further into their Soundcloud and Facebook pages.  All it took was seeing that Talking Heads and Arcade Fire were influences, and I added a number of their tracks and created a Spotify playlist.
The group is augmented by a drummer and bassist, but the principals are James Bohannon on vocals, Conor Cook on guitar, and Nils Vanderlip on synth.  They were kind enough to take time before a recent show at Chop Shop in Chicago's Wicker Park neighborhood to talk about the band, it's brief history, their other influences, and more.
James Bohannon:  Conor and I grew up together, he was living across the street.  I played music with him as a kid.  I met Nils in high school. After college we were all in the city, and got a band together, after a couple of years working corporate jobs. Right off the bat, we had a good following in New York. The shows were energetic and they were usually different and exciting. We blended some cool vibes together. Cinematic and nostalgic vocals with driving synths. Very eighties with rock sounds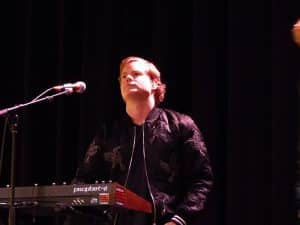 Nils Vanderlip: I was always into music. I went to Berklee College of Music before going to BU. I had a couple of bands, was doing some studio work, but wanted to be a full time musician.  James, Conor, and I were all in New York and all of the same mindset, and wanting to start a project together. The timing worked out. It's been a whirlwind two and a half years. We've had a lot of success that was completely unintended. It's been a blast.
JB:  We got booked to Lollapalooza. We sold out the Mercury Lounge three or four times. There was a guy there who said, "You guys are awesome, would love you to play Lollapalooza."  We had an early slot, but we were with some of our favorite bands.  LCD Soundsystem, Red Hot Chili Peppers, and Radiohead. We put out some music on Spotify. It's our main distribution. The first song we put out charted at number eight on the top 50 viral charts. We cultivated an organic relationship with our fans.   They started as our friends and built from there.  Getting feedback and making the shows really fun for them. We've really done it all ourselves, which is unique.
NV: When we fist started the band we were in upstate New York at Conor's place. In between practices, we went into his basement. He has a giant collection of VHS tapes, as we all do, having growing up in the '90s. It was one of the very first practices we ever had and we didn't have a name yet. I think we saw it and someone threw out that name, and it was 'that sounds amazing,' and it's just appropriate to our generation. So it stuck.
Conor Cook: I was a management consultant for a little while, and was doing music on the side.  Luckily, the music has kind of taken off a bit in the last year. So this is the first time we've been doing this mostly full time, with a couple of other things on the side for money, but mostly focusing on this. Our Spotify numbers are doing well. The tour is kind of up and down. We've played some great shows, but sometimes we have to go to new cities and play some shows where it's hard to fill the rooms and make money. It's on the up and up. Right now I can be in Brooklyn, working for other people here and there, but mostly focus on music which is nice.
NV: Musical influences, my biggest one is Phish. I grew up listening to them. They were such a multi genre band that I got  a complete musical education listening to them. I would emulate the keyboard parts, the guitar parts.  That's how I learned to play. Besides that, it was mostly my Dad's vinyl collection. Stones, Hendrix, Dylan.  I'm kind of a jack of all trades. On stage, I've been playing synths. I'm starting to play a bit more guitar. But in the studio I do a little of everything. Synth, guitar, a little bass. I started as a drummer. My dad was a drummer in rock bands.
JB: Talking Heads, Arcade Fire, Daft Punk. For me personally as a vocalist, I like vocalists that take you to the next level through the character of the vocals.  Matt Berninger from the National, Dave Matthews, Issac Brock from Modest Mouse.  David Bowie, obviously the original, and Lou Reed. These are guys that didn't have necessarily the best voices, but brought a lot of character that made you feel something. That was my wheel house in terms of singing. I'm not a traditionally good singer. But there's a lot of heart in the vocals and people respond really well to that. That is always a key component to our sound.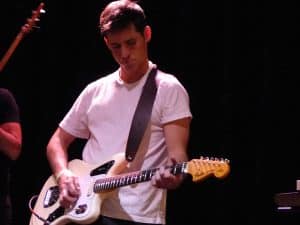 CC: When I really got into playing music, I was really into jam bands. Before that I was into hip hop when I grew up in New York.  Then I got into jam bands in high school and college. That's when I started playing guitar. Then I got more into electronic music, and more recently, pop music. I think you hear a blend of electronic instruments mixed with a live band. That's the very core of the VHS Collection sound. That comes through in the way we make our songs.  We make them on our laptops initially, and then we bring them into the studio and flesh them out.  I play guitar, so we make sure there's enough guitar in the tracks so that they're band oriented songs.  Other bands that I really like now are Daft Punk, Phoenix, Two Door Cinema Club, 1975.  There are elements of the old the bands I listened to in high school, or even bands I listened to in the past two weeks.  Besides Spotify, Music festivals are the best place to discover new music. I've gone to Coachella a couple of years. I'm always on the hunt for new stuff.  I try to steal bits and pieces from other artists that I look up to. Whether it's watching their YouTube videos, or learning how they produce videos.  In the best case, it's seeing them live.  Blending electronic super layered music, with fully performed live stuff is a challenge, and we keep getting better at that.
JB: We work individually passing around songs, each adding our own strength to it.  I'm a melody and lyric guy only.  I write everything on an acoustic guitar, whereas Nils is a massive instrumentalist. He can play anything and writes amazing melodies. Conor is a very good producer, and has a great ear for what's cool and hip, and a good sound for us. We marry all three of those skill sets into one in the demo process. We take ten to twenty songs and do a pre-production session. We always do it in a remote place. We will literally go for two weeks to a cabin in the woods. A family member or friend will find a place, and we'll take those twenty songs and whittle them down to ten really good demos.  We work on them collectively.  We get them really good. We redo vocals. We recut things.  We find the right sounds.  We go from twenty down to ten. Then we take those ten to a producer and turn them into five.  The other songs aren't going anywhere. We keep them on the back burner, but it's a mature thing to let them go. The way I think of it, those songs aren't going anywhere. But they didn't make the cut. Because of technology, that demo will live forever in iCloud fashion.
NV:  The writing is pretty collaborative.  There's two songs on the record I wrote start to finish. There's a couple that Conor and James wrote entirely, but for the most part, it's three of us workshopping music, the vocals, the lyrics, everything until we get it to a place where the three of us are pumped.
JB:  We're unsigned, and trying to maintain our independence all along, so we can have full control. We did have the benefit of spending a few years working in the corporate world to get our wits about us and develop that savvy. We're able to basically get ten million streams on one song, without help from anyone else. But it's a good song and it's shared through the fan base. So if we realize it's possible for  one song, we know it's possible with more. The blueprint for that is keep putting out music and keep touring.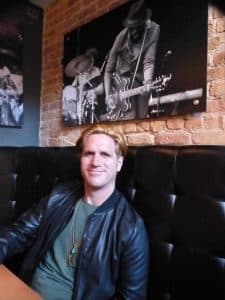 We're working on a full album right now. We have already ten songs cut for it. We did ten  songs with Chris Zane, who did all the Passion Pit albums. We went over to London for two months and worked with him.  And we're going to do probably ten more. Somehow, we'll group it together. The way music is gobbled up these days is different, and an album has a different meaning than it used to. No one cares as much about "the album."  We do care about albums, but we're cognizant it's a singles game these days. Our perfect ideal situation is to put out a single every month, every two months, whatever. And then after twelve months, call that body of work an album.  That's the best of both worlds. You can be in the modern model of singles with heavy content and heavy output with the fan base.  Then you can also put out a body of work such as "Stereo Hype" [their most recent EP.] It was representative body of work for us with mostly a one or two producers. It was at a certain stage of our careers.   There's a certain vibe to all the songs. That feels like a body of work. So we like calling that an EP. We want to keep doing that with albums. At the same time though, we're always going to be rolling out singles.
NV: It hasn't been that much time – our first song came out two years ago, but we've been doing everything we can to put more originality in the music and not be pigeon into one sonic landscape., whether that's adding piano, acoustic guitar, string instruments, or big harmonies.  New elements that are cool and different. Evolve. We have a lot of room to grow. And we have big plans for the sound.  We practice a ton. A lot of these songs we've been playing live for over a year. So were super, super comfortable with them. It shows in the live set.  We're a lot more comfortable on  stage.  We know the songs back to front.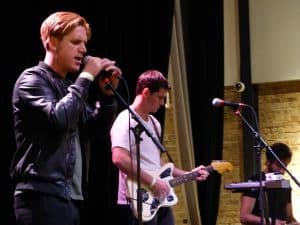 JB: I think we're definitely progressing a lot, not only as songwriters, but as producers. Even though we use producers every time, we're producing demos that are radio quality on our own, and then we're bring them to producers.  We're ramping up our skills on how to do that and getting smarter about things.  On stage our pieces come to life more. You're going to hear a lot more character, energy. The passion, the intensity. I go pretty nuts up there to convey what we are. You'll hear a genuine imperfection We're still crafting our live set.  We have a long way to go.
They are certainly going in the right direction.
Catch them on Facebook and Twitter.
Video samples