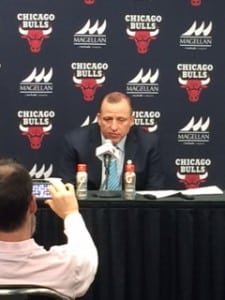 Derrick Rose came ready to play on Thursday night and prove to the national audience watching on television that he is still one of the best point guards in the league.
Entering Thursdays matchup against the San Antonio Spurs Rose had averaged 24.0 ppg on .484 shooting in his previous six games. The Bulls on the other hand were not playing so hot-losing six of their last eight. However,Thursday night just may have been the breakout game Chicago needed, and the proof that Rose can still lead a team that the critics needed to see.
Rose led the Bulls with 22 points on 9-15 shooting and ignited the early spark by getting to the rim, rather than settling for jump shots in the first half. The result? The Bulls beat the defending champion, San Antonio Spurs (27-17) 104-81 and played arguably their best game of the season.
The win could not have come at a better time for Chicago (28-16), who lost on Monday night in Cleveland, which resulted in Rose calling out his team, and a player-coach-meeting with Tom Thibodeau.
"I said what I had to say, and I think my teammates took it to heart" Rose said after Thursday nights win. "That was my first time ever doing that, and it showed tonight that guys were a little bit composed."
It was not only Rose who came to compete against San Antonio. All five starters would score in double figures and Aaron Brooks came off the bench to score 15 points in 24 minutes. While it was a nice win- to get the Bulls back on track, coach Thibodeau still had to address the rumors of being on the "hot seat" after the Bulls recent struggles, and reports he may have lost the locker room.
"As I told you yesterday, I could care less, couldn't care less, and I don't think our team couldn't care less about that stuff," Thibs said.
Well, maybe Thibodeau did not have much to say about the issue, but Rose stuck up for his coach after the game.
"This don't have anything to do with Thibs at all," Rose said. "The way that we've been playing don't have anything to do with Thibs. He's preparing us right. He's doing everything and did everything possible to prepare us as a coach. It is up to the players to give that effort."
Even Spurs head coach Greg Popovich had to answer questions about Thibodeau.
"He's not gonna lose any team," Popovich said before the game. "I think you guys just have to have stories. So somebody loses a few games, there's got to be a reason. I guess that's the one that was picked. Sometimes players listen to me. Timmy stopped listening to me a long time ago. I don't even coach him. You guys think I'm kidding. He just plays. I talk to him once in a while, but sometimes some guys don't want to hear it"
Popovich clearly did not want to talk about problems in Chicago when he has his own team to deal with and a NBA Title to defend this season. Kawhi Leonard led the Spurs with 16 points but was held scoreless in the second half. Leonard also had the tough task of guarding a focused Derrick Rose and struggled to keep up with the former MVP who would score 14 of his 22 points in the paint.
Jimmy Butler also had a nice bounce back game after a two week slump, scoring 17 points and Pau Gasol— who was named a starter on the Eastern Conference All Star Team added 12 points and 16 rebounds. The Bulls will travel to Dallas to take on the Mavericks Friday night.
Post Game Audio below.