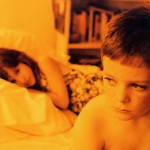 Afghan Whigs are one of the great underrated bands of the 1990s with one of the most enigmatic lead singers in all of Rock.
Greg Dulli's soul-drenched voice is the perfect vehicle to convey the dark liquor-fueled lyrics about obsession that permeate his songs. As much as I hate to say it, he musically comes off like an early-period Jim Morrison, before the silly trite lyrics and woe-is-me melodrama killed the Doors leader's life and career.
Add to that the dramatic backing of Rick McCollum on lead guitar, John Curley on bass, and Steve Earle (not that Steve Earle) on drums, and you have a group that quickly outgrew the "grunge" label put onto them, and morphed into one of the premier alternative soul bands of the `1990s, and beyond.
The Whigs were the first group to sign to Sub Pop Records that weren't from the Pacific Northwest before ending up on Elektra Records where they recorded several records including their magnum opus "Gentlemen" where this song originally hails. After moving on to Columbia Records for the grimy soul album 1965, they split in 2001 and Dulli went on to portray himself as a sleazy lounge lizard with his group The Twilight Singers. He also formed the Gutter Twins with Mark Lanegan of Screaming Trees.
The Whigs reunited last summer for a tour that included a triumphant stop at Lollapalooza that found the band better than they ever were. Since then, they've released two new recordings including a cover of Frank Ocean's "Lovecrimes," and as recently as the South By Southwest Festival this past March, the band was still gigging.
Would it be too much to ask for a full-length album of new Whigs material?