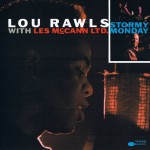 Most people remember Lou Rawls for his silky-smooth vocal delivery and his disco era hit "You'll Never Find Another Love Like Mine," but by the time he had that hit in 1976, Rawls had already been recording albums, and yes many hits, for 14 years.
Chicago-born Rawls got his start by replacing Sam Cooke in the Gospel group (and Vee-Jay recording artists), The Highway QC's. After a stint in the Army, Rawls joined the Gospel group, Pilgrim Travelers. While on the road with Sam Cooke and The Travelers, Rawls was in a serious car accident that left him pronounced dead at the scene of the accident. He was revived but was in a coma for five days before regaining consciousness. After he recuperated, Rawls began doing session work, most notably singing background vocals on Sam Cooke's "Bring It On Home To Me."
He was signed to Capitol Records by staff producer Nick Venet (The Beach Boys, The Kingston Trio, Nat King Cole, Glen Campbell) and recorded his first album, Stormy Monday, for the label in 1962 backed by the Les McCann Trio. The Les McCann Trio were stalwarts of the Sunset Strip jazz clubs and were also signed by Nick Venet to Pacific Jazz Records. Their lineup included McCann on piano, Leroy Vinnegar on bass and Ron Jefferson on drums. The album featured a mix of jazz and blues standards, including today's Song Of The Day which was penned by Rawls and included as a bonus track from the album sessions on the CD reissue.
Rawls continued to record for Capitol scoring the hits "Tobacco Road," "Love Is A Hurtin' Thing," "Dead End Street," "Your Good Thing (Is About To End)," plus many others. During his stint with Capitol, Rawls opened for The Beatles on their 1966 tour in Cincinnati. In total, Rawls recorded over twenty albums for the label before signing with MGM in 1970.
While he only recorded three albums for MGM, he did score his Grammy-winning hit "Natural Man" for the label. He signed to Kenneth Gamble and Leon Huff's Philadelphia International Records label in 1976, where he had his greatest successes releasing million-selling albums and the hits "You'll Never Find Another Love Like Mine," "Lady Love," "Let Me Be Good To You," and "See You When I Git There." Rawls died of cancer in 2006 and left behind a legacy of gritty blues and silky soul recordings.