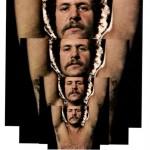 "For those who will listen and not just hear…"
That was the intended audience for the album where today's Song Of The Day comes from, according to its back cover, and they certainly broke the mold after this one was committed to wax. But back in 1969 record labels like Reprise let artists experiment and follow their muse, resulting in one of the most eccentric records ever pressed.
Long before Mort Shuman released this kooky and bizarre album, he was Doc Pomus' songwriting partner in the Brill Building. Together they composed some of the best known songs of the '50s and early '60s including  "Surrender," "Viva Las Vegas," "Little Sister" and  "Kiss Me Quick" by Elvis Presley, "Save The Last Dance For Me," "Sweets For My Sweet" and "This Magic Moment" by The Drifters, "A Teenager In Love" by Dion And The Belmonts, "Can't Get Used To Losing You" by Andy Williams, "Suspicion" by Terry Stafford, "Seven Day Weekend" by Gary "U.S." Bonds, plus many more.
By 1965, Shuman moved to England for a few years, and then to Paris where he discovered the songs of Jacques Brel, whose work would shape the rest of his career. Before Shuman, Brel was primarily known to the American market for his song "le Moribond," which was translated by Rod McKuen  as "Seasons In The Sun" and recorded by The Kingston Trio. (Yes, it's the same song that topped the U.S. charts in 1974 by Terry Jacks.)
Upon discovering Brel, Shuman set his sights on translating Brel's songs for the American market, forming the basis of his 1968 revue, Jacques Brel Is Alive And Well And Living In Paris. He reprised this role in the 1975 film version of the musical.) In the meantime, Scott Walker recorded Shuman's versions of Brel's "If You Go Away" and "Jackie," turning both of them into easy listening classics.
In 1969, Shuman released his debut album, My Death, a rumination of life from birth to death, complete with theatrical poetry readings and baroque musical passages over anatomically correct songs about giving birth, miscarriages and finally death. And, of course, there's lots of good old '60s harpsichord thrown in for good measure. It's a record that is shockingly beautiful, and beautifully shocking.
Case in point is the album's opener, "Born 1969," featuring Shuman reciting from a medical manual in graphic detail about child birth, while Handel's "Hallelujah Chorus" plays in the background. Then there's this alarming couplet, "She tried to tie herself to life, but then she broke the cord, I went to see my baby, in the psychiatric ward," from the song "She Ain't Nothin' But a Little Child, Oh My"
But underneath all of the classical flourishes and deadly serious poetry reading, you can hear traces of Shuman's brilliant Brill Building past, in the dramatic string arrangements of "Wait A Minute," the doo-wop flavoring of "Mon Enfance," and in the Broadway tinged melody of "Caramels," which is today's Song Of the Day.
It's a record that at times is unintentionally hilarious, but also recalls a great time in music where anything was acceptable.