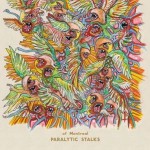 Kevin Barnes and his collective known as Of Montreal released their eleventh album called "Paralytic Stalks". Once again, the group has created a collection of songs that are both ethereal, proggy and funky at the same time. While most of their records celebrate life as a hedonistic party that never ends, this one grounds us with a collection of songs full of remorse and regret. Of course, with the ghost of Prince floating around the musical ether, you'd never know it without a lyric sheet. Here they are on "Late Night With Jimmy Fallon" from earlier this week.
Click the link below to watch the video.
Of Montreal Plays "Dour Percentage" – Music – Late Night with Jimmy Fallon.