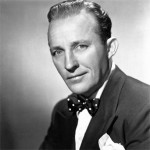 As our boys came home from World War II, they were welcomed back with this number one hit from 1945 that perfectly captured the sentiments of those who remained home while their loved ones were away.
It's a perfect record in every way. You'd be hard pressed to find a better vocalist than Crosby to deliver these hopeful, romantic lyrics in a croon that is both smooth and warm. Meanwhile, the lilting melody expertly supplied by Jule Styne effortlessly supports the lyrics written by Sammy Cahn that spoke to millions of couples who had been separated by the war.
However, it's the lyrical guitar playing of Les Paul that steals the show, with a tone as smooth and genial as Crosby's croon. His licks are the epitome of tasteful and never overpower the proceedings, while the rest of the Les Paul Trio, featuring Jim Atkins (half-brother of Chet Atkins) on rhythm guitar and Ernie "Darius" Newton on bass, add the perfect support.
The song was also a number one recording for Harry James and his Orchestra with Kitty Kallen on vocals in 1945, and a chart hit for Charlie Spivak and his Orchestra with Irene Daye on vocals.
It's been covered dozens of times by the likes of Stan Kenton with June Christy, Sammy Kaye, Perry Como, Peggy Lee, Keely Smith, Louis Armstrong, Al Hibbler, Guy Mitchell, Frank Sinatra, The Ink Spots, Rosemary Clooney, Brook Benton, Tom Jones and many others. Les Paul revisited the song several times throughout his career, cutting a version with his wife Mary Ford in the 1950s, and nearly 30 years later another one with Chet Atkins on the Chester and Lester album.
This recording is the definition of timeless.