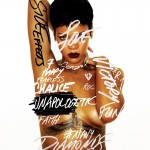 Rihanna makes great records …her albums are wildly inconsistent, but recording hit singles is her strength, and over the span of seven years, Rihanna has established herself as one of the biggest pop stars ever.
Her latest album is called "Unapologetic," and it is her most ballad-heavy release. The album's title references her decision to work again with ex-boyfriend Chris Brown, who viciously beat her on the night of the Grammy Awards in 2009. The incident is also reflected in many of the song's lyrics, making this her most personal record. Her decision to work again with Brown was predictably met with much disdain from our tabloid culture, but who she works with is her business, and if it results in great music, why not.
With a voice reminiscent of Ronnie Spector, flaming red hair, great dance moves and even better legs — Robyn Rihanna Fenty is one of the most successful recording artists of all time, landing twelve records on top of the Billboard singles chart while selling more than 60 million digital singles and 25 million albums over the last seven years.
Hailing from Barbados, Rihanna's ascent to supremacy of the pop charts began in 2005 when she was signed by Jay-Z to Def Jam records. Her long list of hits includes "Umbrella," "Only Girl (In The World)," "S.O.S.," "Disturbia," "Take A Bow," "Don't Stop The Music," "Russian Roulette," "Hard," "Rude Boy," "What's My Name?," "We Found Love," "S&M," "Where Have You Been," her current chart-topping smash "Diamonds" and numerous others. Add to that list the many cameo appearances she's made on records by today's most popular artists including Drake, Kanye West, Jay-Z, Chris Brown, Fabolous, Nicki Minaj, Ne Yo, Jeezy, Eminem, Maroon 5, and Rihanna's chart dominance becomes enormous .
Today's Song Of The Day is one of the standout tracks on her latest album, showing off her expressive voice sans auto-tuning. Her duet partner is Mikky Ekko who scored his own recent hit with "Who Are You Really." While I wouldn't expect this song to become a big hit, or even to be released as a single, you can surely expect to be hearing the songs "Pour It Up," "Phresh Out The Runway," "Jump," "Right Now" and "Nobody's Business" in the coming year if and when they are released as singles.