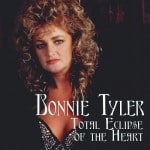 If ever there was a song that I love and revile in equal measures at the same time, "Total Eclipse Of The Heart" is that song.
When it first blasted onto radio and MTV in 1983, I instantly recognized the song's appeal and truly loved the melody. However, the very bombast of the track (courtesy of Jim Steinman) that set the song soaring up the charts, coupled with the husky voice of Bonnie Tyler also made me hate it, especially when it was pummeled repeatedly onto my psyche via constant airplay.
With the passage of time, and its absence from media saturation, I now truly appreciate and love this AM radio gem more than ever.
The song was written and produced by Jim Steinman, the man behind Meat Loaf's epic Bat Out Of Hell album. In truth, "Eclipse" could have easily fit on a Meat Loaf album as all the Steinman hallmarks are present – the quiet initial statement of an alluring melody leading to a grand bombastic build up, interweaving vocals and larger-than-life Broadway production values. It should come as no surprise that Meat Loaf has said that the song was originally written for him to record.
Jim Steinman got his start working in musical theater writing for the minor musicals including Whistle Down The Wind and Tanz der Vampire. It was while working on a theatrical adaptation of Wagner's opera Das Rheingold in 1974, that Steinman met Marvin Lee Aday who would go on to change his name to Meat Loaf a few years later. While touring with National Lampoon, Steinman and Aday began working on a set of songs with an eye toward making an album together.
The two shopped their magnum opus, Bat Out Of Hell to practically every record label and were met with nothing but utter rejection. When they got to Columbia Records, Clive Davis claimed that Steinman knew nothing about writing or rock music in general. The album was finally released by Cleveland International Records, which was distributed by Epic Records whose parent company coincidentally was Columbia Records. The album ultimately sold over 40 million copies worldwide.
After Meat Loaf developed problems with his voice and had a tough time recording a suitable follow-up to Bat Out Of Hell, Steinman worked on his musical score for Tanz der Vampire, which included the motifs for two more of his hits, Air Supply's "Making Love Out Of Nothing At All" and "Total Eclipse Of The Heart."
Raspy voiced, Bonnie Tyler was born in Wales and found worldwide success with her 1978 top five single "It's A Heartache." She released four albums for RCA between 1977 and 1981, but became disenchanted with her handlers' efforts to market her as a pop-country artist. After seeing Meat Loaf perform "Bat Out Of Hell" on The Old Grey Whistle Test, she approached Jim Steinman to produce her next record.
Steinman presented Tyler with "Total Eclipse Of The Heart" and she readily agreed to record it. The song was released as a single from Tyler's Steinman-produced 1983 album Faster Than The Speed Of Light. The single topped the charts all over the world and sold over nine million copies. The song received two 1984 Grammy nominations for Best Female Pop Vocal Performance and Best Female Rock Vocal Performance.
"Total Eclipse" also dueled it out on the charts with Air Supply's "Making Love Out Of Nothing At All," and ultimately "Eclipse" topped the charts to Air Supply's number two showing. Tyler continued to work with Steinman, releasing the 1985 album Secret Dreams and Forbidden Fire which included the single "Holding Out For A Hero," which was featured on the soundtrack to the movie Footloose.
You may wonder, what led to me choosing this song as today's Song Of The Day. While trolling on Facebook, I came across a clip of comedienne and impressionist, Christina Bianco performing this song in the guise of numerous famous divas including Adele, Cher, Barbra Streisand, Gwen Stefani, Kristin Chenoweth, Julie Andrews, Liza Minnelli and Bernadette Peters. It's a clip you don't want to miss!
Bonnie Tyler Version: