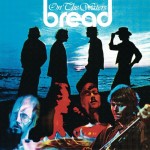 To some, Bread's brand of soft rock was nothing more than insipid drivel. To others they were purveyors of well-crafted, easy listening staples that provided some of the greatest guilty pleasures to be heard on AM radio during the early '70s. To me, their songs were minor annoyances that didn't make me rush to change the station when they used to pop up on the radio, but now their heavenly brand of melody-driven soft rock provides a welcome dose of nostalgia for the wonder years every time I hear them.
When they released their first eponymously titled album in 1969, the band consisted of three songwriters David Gates, Jimmy Griffin and Robb Royer. Griffin and Royner had worked together in a group called Pleasure Fair, when they met Gates who was initially brought in to produce them. While the first Bread album laid the groundwork for the group's pleasing sound, it ultimately yielded no hits.
Their second album, "On The Waters," included their first hit, the 1971 chart-topper "Make It With You," firmly establishing Bread as hit makers and Mike Botts was added to the lineup on drums in order to allow the group to go out on the road and tour. A second top-ten hit followed with "If," from their third album "Manna," before Royner left the lineup to be replaced by session musician Larry Knechtel.
With Knechtel on board they recorded their most popular album, "Baby I'm-A Want You", in 1972 which included the hits "Everything I Own," "Mother Freedom" and "Diary." The following album, "Guitar Man" (also 1972) included the hits "Aubrey," "Guitar Man" and "Sweet Surrender," however the group broke up after its release due to a dispute over songwriting credits between Gates and Griffin.
After the breakup, Gates released two solo records before again joining forces with Griffin to record the Bread album Lost Without Your Love in 1977, resulting in another top-ten hit with the title track. The reunion didn't last long, and Gates and Griffin parted ways with much animosity. Gates wanted to go out on his own using the Bread name, but Griffin (who co-owned the name with Gates) sued him, bringing an end to their partnership and the group for good.
Listening to a group Fleet Foxes today, makes me realize the debt they owe to Bread.