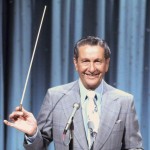 Instrumental week continues…
Wunnerful…wunnerful…this groovetastic little number conjures visions of Gomez and Morticia dancing up a storm in their creepy parlour while Lurch serenades them on the harpsichord. I'm not sure if this Lawrence Welk ditty was ever used on The Addams Family, or if it's just something I've yanked from the cobwebs of my mind, but if it never happened, it probably should have.
From 1951 through 1982, Lawrence Welk brought his special brand of bubbly "Champagne Music," complete with an accompanying bubble machine, into the living rooms of millions of mood music loving viewers. Welk's band focused on popular standards, polkas, and novelty songs, delivered in a smooth, easy listening style befitting his mature family-oriented audience. Welk's show, in essence, was the direct opposite of American Bandstand.
Welk was central to the show's appeal and his unusual accent led to "Welk-isms" like "Wunnerful, Wunnerful," the "And-A-One-And-A-Two" count-off, and the term "Champagne Music," all becoming part of pop culture. But it was the music that audiences really tuned in for, and Welk's orchestra featured some of the best musicians of the day including Dixieland clarinetist Pete Fountain, longtime accordionist Myron Floren, guitarist Buddy Merrill and violinist Dick Kesner.
Today's Song Of The Day was originally titled "Tivoli Melody" and was written in 1958 by Heino Gaze and Hans Bradtke. "Calcutta!" was released as a single by Dot Records in 1961 and soon after topped the charts, knocking The Shirelles' "Will You Love Me Tomorrow" out of the top position. Dancers Bobby Burgess and Barbara Boylan worked up a dance routine to accompany "Calcutta" and performed it on the show many times helping to propel the record to the top position on the charts.
Welk, who was then 57 years old, earned the somewhat dubious distinction of being the oldest artist at the time to top the pop charts. (That record would be broken three years later by Louis Armstrong who was 62 years old when "Hello, Dolly!" topped the charts in 1964.) The Calcutta! album was also a 1961 chart-topper.
The television medium helped Welk score numerous easy listening hit singles including "Moritat (A Theme From Threepenny Opera)," "The Poor People Of Paris," "Weary Blues," "Tonight You Belong To Me" (with The Lennon Sisters), "Last Date," "Theme from My Three Sons," "Yellow Bird" and "Baby Elephant Walk." He even tried his hand at several Champagne versions of rock era favorites like "Green Tambourine" and "The Beat Goes On," which really need to be heard to be believed. He also landed several albums into the top ten of the charts including Last Date, Yellow Bird, Moon River, Baby Elephant Walk and Theme from The Brothers Grimm.
Lawrence Welk died at the age of 89 in 1992.