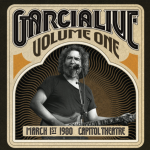 It was a tale of two Jerries.
By 1980 Jerry Garcia had his day job with the Grateful Dead. During that year, the band released the somewhat weak studio album, Go To Heaven, and took to the road to promote it. While the 1979-1980 shows generally found the band in excellent form, in order to keep things interesting for the fans and themselves, they performed some very special shows.
They kicked off their 15th anniversary celebration (1965-1980) with residencies at Radio City Music Hall in New York City and at The Warfield Theater in San Francisco. The shows revived the format of an acoustic first set followed by an electric second set, for the first time since the early 1970s. For the most part, the acoustic sets were uniform ally superb, while the electric sets were workmanlike, as can be evidenced by the acoustic live album Reckoning and the electric Dead Set that were released to commemorate the event.
During breaks in the Dead's touring schedule, Jerry Garcia toured with the Jerry Garcia Band playing small theaters around the U.S. with Ozzie Ahlers on keyboards, John Kahn on bass and Johnny De Foncesca on drums. It was during the JGB shows that Garcia's enthusiasm really showed through,  as evidenced by this performance from the Capitol Theater in Passaic, New Jersey from March 1, 1980, that has just been released as part of the first volume in the newly launched Garcia Live series.
With the JGB (and in this particular show), Garcia had the freedom to stretch out and choose material that really turned him on, including tunes from the Motown songbook ("How Sweet It Is (To Be Loved By You)"), songs by Bob Dylan "Simple Twist Of Fate," The Beatles ("Dear Prudence"),  Jimmy Cliff ("The Harder They Come," "Sitting In Limbo"), Elvis Presley (via Arthur "Big Boy" Crudup) "That's All Right" and even Irving Berlin ("Russian Lullaby").
The JGB repertoire for this particular show also included other Garcia related tunes including the Grateful Dead staples "Deal" and "Sugaree," solo tracks like "Mission In The Rain," and a thoroughly enjoyable romp through  the Old And In The Way favorite "Midnight Moonlight."
Today's Song Of The Day is "Catfish John," which was written by Bob McDill and Allen Reynolds and was originally recorded by country singer Johnny Russell in 1972. Garcia originally recorded the song for his 1976 album Reflections.
The Capitol Theater in Passaic New Jersey was partially run by the promoter John Scher, who would come out at the beginning of each show to introduce the band. Hearing his introduction at the beginning of the show (and on the CD) brings back great memories of a great venue. It was pretty much standard practice that the shows at the venue would be filmed and recorded, leaving behind a treasure trove of great '70s and '80s concerts. Some of the notable artists who played the Capitol included Springsteen, The Who, The Grateful Dead and The Rolling Stones. The theater hosted shows between 1971 and 1989. If memory serves me right…and it doesn't always…I think I was at this JGB Capitol Theater show…
And here's the whole show…