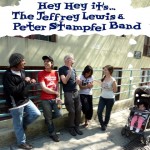 It's a joke…and it's completely for real…Hey Hey…It's The  Jeffrey Lewis & Peter Stampfel Band is also one of the most refreshing, rough 'n' tumble spins you're likely to hear all year.
Jeffrey Lewis is a comic book artist and historian who is known for his successful series of Fuff (aka Guff ) comic books. He's also a guitarist who writes sardonic ramshackle anti-folk songs and has self-released numerous records since 1997. His series of illustrated low budget documentaries complete with fully illustrated historical songs can be found on The History Channel website. (http://www.history.com/search?q=jeffrey+lewis&x=0&y=0) His latest record is a collaboration with Peter Stampfel called Hey Hey It's…The Jeffrey Lewis & Peter Stampfel Band. It is their second record together.
Peter Stampfel is probably best known as one of the founding members of the 1960s psychedelic folk band The Holy Modal Rounders. He was also briefly a member of The Fugs and has recorded records with The Bottlecaps and if that isn't enough of a resume, he also contributed to the liner notes for Harry Smith's Anthology of Folk Music.
Together, the 72 year old Stampfel and the 37 year old Lewis have created a motley collection of shambolic songs that are about as off-the-cuff as they come. If you like your music messy, this is the record for you. The band consists of Peter Stampfel on banjo and fiddle, Jeffrey Lewis on guitar, Isabel Martin o bass, Heather Wagner on drums and Spencer Chakedis on mandolin.
Today's Song Of The Day (shown here in performance from The Mercury Lounge in New York City) is about everyone's favorite Jersey Shore character, Snooki. Neither Stampfel nor Lewis claim to have ever seen the show, but Stampfel says that he's been reading about Snooki since the show's inception. Apparently, Snooki was heard screaming all the words to the refrain in the song (except for one line – "All you creeps are gonna be real sorry") when she was arrested for drunk and disorderly conduct.
The album's opener, "More Fun Than Anyone" originally came from Stampfel's secret archive of unfinished songs. He says that the only person he thinks is really more fun than anyone is Little Richard. Several other songs on the album have their genesis in Stampfel's archive including "All The Time In The World" which was finished up with Lewis for this record.
Other highlights on this delicious platter include "Isn't Summer Fun," which pays homage to The Beach Boys circa 1963 (Stampfel has said that he doesn't have it in him to write a Beach Boys tune from  '64/'65, his favorite Beach Boys era), "Moscow Nights," written by the late Fugs member Tuli Kupferberg and making its recorded debut here, "Indie Bands On Tour" which perfectly captures life on the road for an independent touring band, "Money Marbles And Chalk," a cover of Patti Page's 1949 hit and "Duke Of The Beatniks" (aka "Dook Of The Beatniks") which Stampfel has recorded several times before.
The album is self-released and can, and should, be purchased from the Jeffrey Lewis Band website. (http://jeffreylewis.bandcamp.com/album/hey-hey-its-the-jeffrey-lewis-peter-stampfel-band-10)