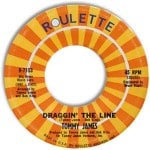 Tommy James and the Shondells were one of the most commercially successful singles groups of the 1960s, selling millions of record and placing bubblegum classics like "Hanky Panky," "I Think We're Alone Now," "Mony, Mony," "Crimson And Clover," "Sweet Cherry Wine" and "Crystal Blue Persuasion" onto the upper echelon of the charts.
However, things came to a dramatic end in March of 1970, when Tommy James and the Shondells played their last concert together in Birmingham, Alabama. As James was leaving the stage, he collapsed and was initially pronounced dead after suffering a bad reaction to drugs. The band continued to tour without James for a time under the name Hog Heaven, while he retired to the country to recuperate.
While recuperating, James wrote and produced the million-selling single "Tighter, Tighter" for the group Alive And Kickin' which reached #7 on the Billboard singles chart. James had originally intended on giving the group "Crystal Blue Persuasion" to record, but decided to keep it for his own group. As a result, he wrote "Tighter, Tighter" (with Bob King) for them instead.
Today's Song Of The Day was originally released on James' second solo album, the quasi-religious Christian Of The World. As is often the case, "Draggin' The Line" wasn't even considered to be released as the single, and was ultimately relegated to the B-side of the "Church Street Soul Revival" single. After DJs began playing the song, James went back into the studio to remix the record and add the horn charts. The song became James' biggest solo hit reaching #4 on the Billboard singles chart in 1971. Playing on the single was James on guitar, Bob King (who co-wrote the track) on bass and Russ Leslie from the group Neon on drums.
The song's title was seen at the time to be a veiled reference to snorting amphetamines, especially since James was no stranger to drug use. As far as drug references go, "Draggin' The Line" could certainly be seen as the follow-up to "Crystal Blue Persuasion." However, according to James "'Draggin' the Line' just meant working every day. Nothing really very mysterious about it." The title of the song came from the bass line: "It's almost like the bass guitar was speaking. And it just seemed to say 'draggin' the line' to me. It's weird. But we had the track before we had the song, and it was like the bass was speaking." (Hmmm…wonder what he was on…)
The song also gave birth to the slang term for ecology minded people, "tree huggers" from the line "Loving a free and feeling spirit, hugging a tree when you get near it…" The song was also later covered by REM and featured in the Austin Powers movie The Spy Who Shagged Me.