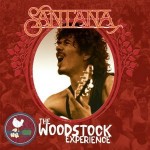 This week we are celebrating the 44th anniversary of "An Aquarian Exposition: 3 Days of Peace & Music" which took place August 15-18th 1969 on Max Yasgur's farm in Bethel, N.Y. Of course, everyone knows the festival by its more common name, Woodstock..
While most people are familiar with Santana's blazing performance of "Soul Sacrifice" that single handedly established the group to the American public and appeared in the movie, most people have never seen anything else from the group's afternoon set on 8/16/69.
At the time, not only were the band unknown out of their native San Francisco, but so was this Tito Puente standard. The song wouldn't become popular for many months, after the group released the studio version as a single and took it to the upper echelon of the charts. It's amazing to watch Carlos Santana catch fire in front of the biggest audience he had ever played to at that point…especially since he has said that he was tripping his face off on acid.
Santana's appearance was part of a barter deal made by manager Bill Graham – if Woodstock wanted Graham's premium acts Jefferson Airplane and Grateful Dead, they would have to take Santana and give them a good slot in the festival.
Obviously, Graham already knew what the Woodstock Nation was soon to find out…that they were to be treated to a career-making performance for the ages!