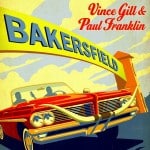 Paying homage to those who have come before you is nothing new in Country music. Merle Haggard paid tribute to Jimmie Rodgers on his classic 1969 album Same Train Different Time, and also recorded tribute albums to Bob Wills and Elvis Presley.  Buck Owens also did it on albums that saluted the influence that Tommy Collins and Harlan Howard had on him.
It's a tradition that has continued throughout the years with one notable entry being Dwight Yoakam's 2008 Buck Owens tribute album Dwight Sings Buck. Dwight and Buck were also very good friends who toured together in 1988 (I was lucky enough to see that tour).
This past week, country music star Vince Gill and ace steel guitarist Paul Franklin released a new album called Bakersfield which pays homage to both Merle Haggard and Buck Owens, and the Bakersfield California country sound they created. The Bakersfield sound was a guitar-driven Honky Tonk style popularized by artists like Owens, Haggard, Wynn Stewart, Jean Shepard and Freddie Hart, that came as a reaction to the string laden country hits that were pouring forth from Nashville during the 1960s.
Gill's storied career has seen him sell more than 26 million albums, and win 20 Grammy and 18 CMA awards. Franklin is one of the most recorded pedal steel guitar session players in Nashville, whose pedal steel and dobro has been heard on over 500 records including sessions for Randy Travis, Reba McEntire, George Strait, and even Barbra Streisand and Megadeth. The two artists have also performed together before in their recurring Western Swing side project, The Time Jumpers.
Rather than record carbon copies of the originals on Bakersfield, Gill and Franklin have lengthened the solos to emphasize the interplay between Gill's Fender Telecaster and Franklin's pedal steel.
Today's Song Of The Day was a #2 hit for Buck Owens in 1961. It is one of five Owens songs on the album that also includes "Together Again," a 1964 chart-topping B-Side that features one of the greatest pedal steel solos of all time (that inspired Jerry Garcia to pick up the instrument),  "Nobody's Fool But Yours," a #11 hit from 1962, "But I Do," which was originally from the 1963 tribute album Buck Owens Sings Tommy Collins, and "He Don't Deserve You Anymore," a 1966 track that was never released as a single from the album Roll Out The Red Carpet.
The Haggard tracks include "The Fightin' Side Of Me," one of Hag's most popular singles that originally topped the charts in 1970, "Tonight The Bottle Let Me Down," a #3 hit from 1966 that was covered by Elvis Costello in 1980, "Branded Man," another chart topping single originally from 1967, "I Can't Be Myself" which climbed all the way to #3 in 1970 and "Holding Things Together," which was originally a 1974 LP track from the album Merle Haggard Presents His 30th Album.
Together, Gill and Franklin have fashioned an album that cuts through the jingoistic '70s rock crap that passes for Country music today, with something that is far more rewarding and down to earth.