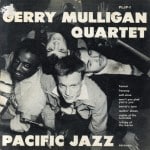 Here is some of the greatest the West Coast had to offer, from the very first release by Pacific Jazz Records! I scored an original 1952 10" pressing of this one (Pacific Jazz catalog number PJLP-1) on heavy microgroove vinyl in a garage sale many years ago!
Not only did this record signal a bright new beginning for a Jazz record label that would become a force to be reckoned with, but it introduced the stellar line up of Gerry Mulligan on the tenor sax, a young Chesney (Chet) Baker on trumpet, Chico Hamilton on drums and Von (Bob) Whitlock on the bass.
And the contrapuntal sound, featuring a give and take between Mulligan and Baker as they weave around each other: one minute they're playing together, one moment they're playing off of each other, offered a sound to Jazz fans of the fifties previously unheard of.
Three hours in the car today offered me the opportunity to play about half of European Label, Jazz Dynamic's five CD Complete Chet Baker & Gerry Mulligan 1952-1957 set, which I consider time very well spent.
The boys on this album cover look pretty strung out…but their playing couldn't be tighter…