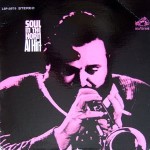 Time was running out. By 1968, the gravy train that artists like Al Hirt and Herb Alpert had ridden to fame on, was about to make a stop. Sure, Alpert would score his last huge hit, the #1 Bacharach and David gem "This Guy's In Love With You" in 1968, but shortly after that, even Alpert's run at the top would end until the mid-1980s.
Things were even worse for Al Hirt. It had been four years since Hirt was on the top with singles like the Allen Toussaint-penned "Java," "The Green Hornet Theme" and "Sugar Lips," plus top-ten albums like "Honey In The Horn" and "Cotton Candy." Changes would have to be made, so like many others of his ilk, Al Hirt decided to try new things to see if he could keep himself commercially viable.
The sound would have to be updated, so in 1967 "The Round Mound Of Sound" (as he was known) released the album "Soul In The Horn." Gone was the old, good-time-trad-Jazz-Dixieland-Bourbon Street sound of yore, only to be replaced by certainly the funkiest, au go-go sounds to ever come out of Hirt's horn. Think "Shagadelic," but a whole lot more jazz, and a whole lot more serious in the groove department.
Hirt sets the tone right from the opening cut with a cover of Booker T. & The MG's 1966 single "Honey Pot." Perhaps the album's most famous song is today's Song Of The Day, "Harlem Hendoo," which was famously sampled by De La Soul for the track "Ego Trippin' Pt. 2" from the album "Buhloone Mindstate" and also by The Roots on the track "Stay Cool" from their 2004 album, "The Tipping Point."
Credits for this album are hard to come by, but what I do know was that the sessions were arranged by George "Teacho" Wiltshire (known for his work with Solomon Burke, Wilson Pickett, The Drifters, Gene Pitney and many others) and produced at RCA Victor's Studios in New York City and Chicago by Paul Robinson (who would later produce tracks for Maxi Priest in the 1980s).
The lion-share of the songs were written by Paul Griffin, who was famous for session work with King Curtis, Bob Dylan (on Highway 61 and Blonde On Blonde,  no less), Van Morrison, The Isley Brothers, and Steely Dan (on Aja). There are several other tracks from the record that really cashed my register, including the island-flavored "Calypsoul" and the relentlessly groovilicious "Love Ya' Baby."
Al Hirt's foray into soul never did bring him back into the charts or the forefront of the music scene, but he did continue to play at his club in New Orleans, and years later make many DJ crate diggers very happy.