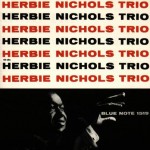 If Herbie Nichols is remembered for anything, it's probably for composing one of Billie Holiday's signature songs "Lady Sings The Blues." Problem is, Nichols is all but totally forgotten today, even though he recorded a handful of seminal EPs and an album for the Blue Note record label between 1955 and 1956. For the 30 or so years after these recordings were made, the music sat in the vaults, out of print and out of most people's minds. Sometimes the greats don't get their due during their own lifetime.
During the late '30s, Nichols was part of the Harlem jazz scene, playing at such clubs as Minton's and Monroe's while giving birth to a new form of music called bebop. Upon his return after serving 18 months in the army, he found himself outside of the bebop jazz circles he was previously part of, so he began playing New Orleans Dixieland and rhythm and blues in order to continue to support himself playing music.
While still very much a struggling musician and songwriter, a big break came when Mary Lou Williams recorded three of his tunes in 1952 including "The Bebop Waltz" (retitled "Mary's Waltz"), "At Da Function" and "Stennell" (retitled "Opus Z").  Then Billie Holiday heard his song "Serenade," wrote her own set of lyrics to it, and retitled it "Lady Sings The Blues."  It would go on to be one of the songs most closely associated with her for the rest of her career.
He was as original and innovative as Art Tatum, Thelonious Monk and Dave Brubeck, yet it literally took him from 1937 through 1955 to convince Alfred Lion to record him as a leader for Blue Note records.
The session for today's Song Of The Day, "House Party Starting" took place on August 1, 1955 and was ultimately released on the self-titled Blue Note album (1519). Joining Nichols on piano are Al McKibbon on bass and the great Max Roach on drums. The song was later covered by Mal Waldron with Steve Lacy in 1991 on their Novus album Hot House.
Nichol's entire recorded output during his lifetime consisted of the two EPs and an album he cut for Blue Note, and one additional album released on Bethlehem in 1957. He died of leukemia in 1963. He was 44 years old.