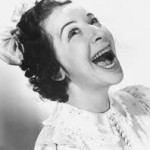 She was the original "Funny Girl."
Most people know today's Song Of The Day from Barbra Streisand's recording as featured in the musical Funny Girl. In it, Streisand plays the part of Fanny Brice who was a famous recording artist, comedienne and star of radio, stage and screen. Her real name was Fania Borach and she was born in New York City in 1891.
Brice got her start in burlesque and was hired in 1910 by Florence Ziegfeld to perform in the Ziegfeld Follies where she performed comic routines lampooning popular stage dancers which included her trademark parody of a dying swan ballet. Brice appeared in numerous annual Follies and it was in these shows that she introduced her two signature songs "My Man" and "Second Hand Rose."
She recorded many records for Victor and Columbia and today's Song Of the Day was originally recorded for Victor in 1928. She starred on Broadway in Fioretta, Sweet And Low and Billy Rose's Crazy Quilt, and her film credits include Everybody Sing with Judy Garland and Ray Bolger, The Great Ziegfeld and Ziegfeld Follies.
However, Brice's biggest fame came from the popular radio show, The Baby Snooks Show, in which she performed the part of the title toddler for over 20 years. She began performing in the character of Baby Snooks at parties as early as 1910 where it was so popular, she decided to bring it to radio.
While she was one of the biggest stars of her era, Brice's personal relationships were fraught with pain and uncertainty.  She was married three times. Her first husband was Frank White, a barber, whom she met in 1911. That marriage lasted only a few days.
Her second husband was Julius W. "Nicky" Arnstein, a conman who relentlessly sponged off of her. He was imprisoned for 14 months on a wiretapping charge before they got married, and six years into their marriage, Arnstein was charged as part of a gang who were involved in a five million dollar Wall Street bond theft. Rather than turn himself in, Arnstein went into hiding and then fought the charges for four years taking a huge toll on Brice's finances. Ultimately, he served an additional three years in prison and upon his release; he completely disappeared leaving Brice and their children behind for good. It was this marriage that formed the basis for the plot of the musical Funny Girl.
Her third marriage was to songwriter/producer Billy Rose in whose Crazy Quilt Review she starred. That marriage also didn't last.
With the advent of television, Brice tried to take her Baby Snooks character to the small screen, but soon found that the character didn't translate to the visual medium. In 1950, she returned to radio as Baby Snooks in Tallulah Bankhead's The Big Show along with Groucho Marx and Jane Powell. Six months later, she died from a cerebral hemorrhage at the age of 59.
Her life was portrayed on stage and screen several times. The 1939 film Rose Of Washington Square starred Tyrone Powers and Alice Faye. Unhappy with how she was portrayed, she sued 20th Century Fox and won an invasion of privacy lawsuit, forcing them to pull several scenes and key musical numbers from the film.
Her story was taken to Broadway in the form of the musical Funny Girl in 1964. The musical was produced by Ray Stark, who was Brice's son-in-law, and it sported a score written by Jule Styne and Bob Merrill. The musical also featured several songs originally recorded by Brice including today's Song Of The Day. It was nominated for eight Tony Awards in 1964 and catapulted Streisand to stardom.
The 1968 film adaptation of Funny Girl was directed by William Wyler and starred Streisand reprising her role of Brice with Omar Sharif as Nicky Arnstein. The film was nominated for eight Academy Awards, and Streisand took the trophy home for best actress.
The 1975 sequel, Funny Lady also starred Streisand and Sharif as Brice and Arnstein, and James Caan played the part of Billy Rose. The music was written by John Kander and Fred Ebb (who also wrote the music to Cabaret). The film was nominated for five Academy Awards and six Golden Globes.
While none of the adaptations of her life were completely accurate, they did ensure that the legend of Fanny Brice would be remembered forever.