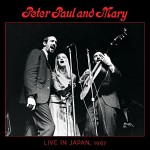 They were the original prefab group, put together by their manager much in the same way that The Monkees were. But instead of a casting call, Albert Grossman knew exactly what he was looking for to form his folk group…two bearded guys (one on stand-up bass, one on guitar) and one woman, preferably a blonde, who could all sing. That's how the folk trio of Peter Yarrow, Paul Stookey & Mary Travers came to be. But unlike The Monkees who were ridiculed by many and spent years proving to their audience that they were the real thing, PP&M were welcomed with open arms right from the get-go.
After auditioning for the job of being Peter, Paul and Mary, the trio cut their teeth performing in the folk clubs of Greenwich Village in New York City. Not only did Peter and Paul write many of their biggest songs including "Puff The Magic Dragon," "The Cruel War," "Gone The Rainbow," "Day Is Done" and "I Dig Rock 'n' Roll Music," but they introduced a whole host of songwriters' material to a new generation of music fans, including songs by Gordon Lightfoot ("Early Morning Rain"), John Denver ("Leaving On A Jet Plane") and, most crucially, Bob Dylan ("Blowin' In the Wind"), who not-coincidentally was also managed by Albert Grossman. The trio went on to record memorable versions of Dylan's "The Times They Are A-Changin," "Don't Think Twice (It's Alright)" "It Ain't Me Babe," "I Shall Be Released," "Too Much Of Nothing" and "When The Ship Comes In."
In 1963, Peter, Paul and Mary appeared at the Equal Rights March On Washington, sharing the stage with Martin Luther King when he gave his famous I Have A Dream speech and performing their version of "If I Had A Hammer." While they were already the darlings of the collegiate generation of folk fans who were also tuned into groups like The Kingston Trio and The Chad Mitchell Trio, that appearance also established them with the burgeoning counter-culture.
After scoring numerous hits, the trio split in 1970 to try their luck at solo careers, with Stookey composing and scoring the hit "Wedding Song (There Is Love)," which went on to become a standard played at millions of weddings each year. The group reformed in 1978 and resumed regular touring together again until Mary Travers died in September of 2009.
The original version of today's Song Of The Day appeared on the trio's self-titled debut album from 1962 which spent seven weeks at the top of the Billboard charts. With a story line drawn right from the Bible, the tale of Samson & Delilah has been fodder for numerous artists throughout the years (and under different names including "Samson & Delilah" and "Tear That Building Down") including the Reverend Gary Davis, Blind Willie Johnson, Ike & Tina Turner, and most notably by the Grateful Dead, who performed it as part of their regular repertoire for many years.
But, as much as I love the good ol' Grateful Dead's version, it doesn't hold a candle to this 1967 live version from Japan. For years, this version was available on a Japanese-only vinyl release, until late last month when Rhino Records finally got around to releasing the whole concert on an expanded 2-CD set called "Live In Japan 1967."