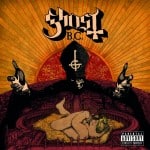 It's not Spinal Tap during their "Stonehenge" phase, however Ghost B.C.'s satanic metal church music offers a theatrical twist (a la Tap's "Henge") unseen in rock music for many years.
The stage fills with thick plumes of white smoke while the sound of Latin liturgical chanting fills the air. Out of the haze emerge five group members wearing hooded robes, their faces obscured by masks. The band members, known as Nameless Ghouls, represent one of five elements; fire, water, wind, earth and ether. Their robes are adorned with a different symbol for each element, and their brand of rock is the chunkiest, crunchiest heavy metal sludge and dirge this side of early Metallica. With great fanfare, the lead singer emerges in skull make-up, dressed as a Roman Catholic Cardinal wearing black, augmented by an upside down cross. His hands raised in the air as the band kicks in with a killer riff destined to slay the audience.
The band is known as Ghost in Sweden, but due to legal reasons, they are Ghost B.C. in America. Nameless Ghoul: "The B.C. is silent, and as soon as we can, it's gonna be taken away forever." The band's lineup includes Papa Emeritus II on vocals, Nameless Ghoul on lead guitar, Nameless Ghoul on bass, Nameless Ghoul on keyboards, Nameless Ghoul on rhythm guitar and Nameless Ghoul on drums.  Their real identities are kept a secret which adds to their intrigue. Papa Emeritus is now known as Papa Emeritus II, and although he is believed to be the same person, he now portrays a different character.
Convoluted? You bet. Intriguing? Definitely, and all this would be totally laughable, if it weren't for the fact that the band are capable musicians and some of their songs are downright exceptional. Their songs are credited to "A Ghoul Writer," however it is rumored that Tobias Forge formerly of the Swedish Bands Subdivision, Repugnant and Crashdiet is the real identity of Papa Emeritus II and is also "A Ghoul Writer."
The band takes the Roman Catholic Church and turns it upside down, worshipping Satan instead of the Holy Trinity. Nameless Ghoul: "The sort of Satanism, or devil-worship, that we want to portray in the confines of Ghost, is a very biblical version of goat worship…we're playing with the idea of divinity, and we're using the diabolical symbolisms to set a mindset."
Songs like "Ritual," "Monstrance Clocks" (which Papa Emeritus II introduced as "a song about fucking") and today's Song Of The Day which opened their set at Lollapalooza, rock out in reckless abandon while never losing sight of song structure and, at times even melody. The B-side of the "Secular Haze" single is "I'm a Marionette" which is an ABBA cover featuring Dave Grohl on drums. The album's second single is "Year Zero" which is backed with "Orez Raey" ("Year Zero" played backwards).
The lyrics are blatantly satanic, but they are filtered through a biblical lens, trading the coming of Christ for the coming of Satan. Nameless Ghoul: The album also deals with "how people relate to a deity or God, themes like submission and superstition, the horrors of being religious."
It's all very tongue and cheek, a total goof, and it wouldn't work if the band didn't have the musical chops to back it up. Nameless Ghoul:  "We have no militant agenda. We are an entertainment group. Our mission is to put on a show. We want people to go into the experience the same way that you would lose yourself in a horror movie for an hour or two…We knew very early that to make this material work we needed to fulfill our dream of putting a horror show together with music."
Predictably, their satanic themes have not been welcomed with open arms in the U.S. The album was recorded in Nashville, where they had difficulty booking choir vocalists to sing their lyrics. It has been banned by several retail chains, radio has been reluctant to play them, and they have had a hard time getting booked onto late night talk shows for appearances.
Ghost B.C. hail from Linköping, Sweden, and formed in 2008. Their first album Opus Eponymous (2010) was nominated for a Grammis Award (Sweden's equivalent to the Grammy Awards) for best Hard Rock Album in 2011. The release of their latest album, Infestissumam (where today's Song Of The Day hails from) was pushed back in America because U.S. CD manufacturers refused to press up the release due to objectionable artwork on the deluxe version. The artwork was described as an illustration of a 16th century orgy. As a result, the U.S. CD carries different artwork than the vinyl version and the European CD version which carries the original artwork.
The group just wrapped up their Haze Over America U.S. tour with a final date at Lollapalooza this past Friday. Listening to them on record is beside the point; Ghost B.C. is a group that must be seen to be believed.