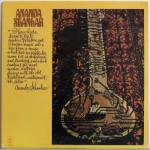 East certainly met West on Ananda Shankar's eponymously titled first album from 1970.
Shankar's father was the Indian choreographer, Uday Shankar, while his more-famous uncle was the master sitar player, Ravi Shankar. Although, Ananda also became famous for playing sitar, he did not study under his uncle, but rather studied traditional Indian music with Lalmani Misra at Banaras Hindu University. Shankar was first exposed to Western sounds when he traveled with members of his famous family, as they performed on concert stages across America during the 1960s.
The concept for his debut album was simple, meld Western rock sounds with the traditional music of Shankar's homeland, India. To this end, Shankar moved to Los Angeles in the 1960s and fell in with the west coast rock crowd, jamming with the likes of Jimi Hendrix and many others. This led to him forming a band for his debut album for Reprise that included session great Jerry Scheff (Elvis Presley) on bass, and Paul Lewinson on moog synthesizer, that along with Shankar's droning on the sitar, provided an extra layer of space to the soundscapes.
The album mixed popular rock songs of the day like The Doors' "Light My Fire" and today's Song Of The Day, The Rolling Stones' "Jumping Jack Flash" with contemporary classical Indian music composed by Shankar himself. It was produced by Alex Hassilev, who was an original member of the folk group The Limeliters (along with Lou Gottlieb and Glenn Yarbrough) during the 1950s and '60s.
While his version of the two rock songs do seem somewhat novel (in a very cool way) today, the classical Indian cuts on the record are the real reason to tune in, especially the 13-minute "Raghupati" which was used many years later as part of the soundtrack to the video game Grand Theft Auto: Liberty City Stories, and the entrancing "Metamorphosis."
His second album, "Ananda Shankar And His Music" was a jazz-funk affair released in 1975 that has since become a much sought after record for club DJs. Shankar continued to make musical soundscapes combining his sitar playing with electronics throughout the 80s and 90s until his sudden death from a heart attack in 1999. His music was used extensively several years ago throughout the short-lived NBC situation comedy "Outsourced."
For those interested in hearing more, the album "Ananda Shankar "was reissued on CD several years ago by Collector's Choice Music.