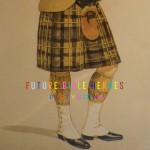 Stephin Merritt is one of today's greatest songwriters. Whether solo or with groups like Magnetic Fields, The Gothic Archies, The 6ths or Future Bible Heroes, Merritt has given us hundreds of great songs over the years with a Broadway sensibility, deadpan delivery and a droll sense of humor. He's even released a soundtrack to the A Series Of Unfortunate Events books composed with none other than author Lemony Snicket.
Future Bible Heroes, which has served as one of several outlets for Stephin Merritt's prolific songwriting abilities, features Chris Ewen of Figures On The Beach (who co-writes all of the songs here with Merritt) and Claudia Gonson who also plays the musical foil to Merritt in Magnetic Fields.  In the past, the main distinction between Future Bible Heroes and the mothership group was the Heroes' penchant for electronic dance music, but with their just-released third album Partygoing, the lines between the two groups have blurred.
Today's Song Of The Day, "Keep Your Children In A Coma," is typical Stephin Merritt fare, featuring absurd and shockingly humorous lyrics ("You can't let them go to school for fear of bullying little beasts / and you can't take them to church for fear of priests / Keep your children in a coma."), and a hummable Brill Building melody that supports Merritt's sad, hound dog delivery.
Like Magnetic Fields, half the songs here are sung by Claudia Gonson, whose distant singing style is the perfect counter to Merritt's deep basso voice. Her passive delivery on the songs "A Drink Is Just The Thing," "When Evening Falls On Tinseltown" and "Living, Loving, Partygoing" feels right at home in the intentionally murky girl group production values.
Merritt's "Sadder Than The Moon" and "All I Care About Is You" would fit comfortably on Magnetic Field's magnum opus 69 Love Songs, and are every bit the caliper of those on that hallowed record. When the Merritt and Gonson's voices do come together as they do on the duet "How Very Strange," they paint a sonic picture akin to having an angel whispering in one ear while the devil is groaning in the other.
Partygoing is by far the best of the three Future Bible Heroes records, and easily better than the last Magnetic Fields offering. However, if you really want the Stephin Merritt experience (and take it from me, you do), start with the three CD magnum opus, 69 Love Songs by Magnetic Fields.