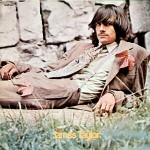 It is indeed a fascinating story as to how a singer songwriter from America who was recovering from heroin addiction came to the attention of The Beatles in 1968, leading to the release of the first album by an American artist on their newly-christened Apple record label.
James Taylor came from a wealthy family and grew up in Chapel Hill, North Carolina where he learned to play cello and then guitar. The family vacationed in Martha's Vineyard, Massachusetts during the summers where he first met Danny "Kootch" Kortchmar at the age of 14. Even at their young age, Kootch realized that Taylor's singing and songwriting were indeed something special. The two began gigging together in folk clubs under the name Jamie and Kootch.
Taylor had a hard time dealing with the pressure of attending college prep school, resulting in his first bout with depression issues. He checked himself into the McLean Hospital in Belmont, Massachusetts where he wrote many of the songs that would figure into his first proper album while recovering.
Upon leaving McLean, Kortchmar urged Taylor to move to New York City where they formed a band called The Flying Machine and began playing many of the songs that would later turn up on Taylor's debut album, including "Knocking 'Round The Zoo," "Something's Wrong," "Night Owl" and "Brighten Your Night With My Day."
While in New York, The Flying Machine frequently played at the Greenwich Village nightclub, The Night Owl Café that ultimately inspired Taylor's song "Night Owl." Taylor also began to become involved in the seedier side of New York City life and got hooked on heroin which inspired the song "Rainy Day Man."
In New York, the band came to the attention of Chip Taylor who agreed to record them for the Jay Gee record label which was a subsidiary of Jubilee Records. After their first single, "Brighten Your Night With My Day"/"Night Owl" failed to chart higher than number 102, Jay Gee decided to shelve the band's recordings which were later released in 1971 as James Taylor And The Original Flying Machine. After bottoming out in New York City from his heroin addiction, Taylor's father came to retrieve him and he returned home for six months, spending more time in rehab before deciding to move to London in 1967 to try his hand as a solo artist.
In the meantime, Kortchmar became good friends with Peter Asher (of Peter And Gordon) after his band The King Bees opened for Peter And Gordon on tour. It was through Kortchmar's connection with Peter Asher that James Taylor was able to fly onto The Beatles' radar. At the time, Asher was head of artists and repertoire for The Beatles' newly formed Apple record label. Taylor sought Kortchmar out a few days after arriving in London, and an audition was scheduled. Asher was duly impressed and introduced Taylor to Paul McCartney. After winning McCartney's approval, Taylor became the first non-British act signed to Apple, and he began recording his first proper album at the same time that The Beatles' were working on The White Album.
During the sessions which also featured ex-Flying Machine drummer Joel "Bishop" O'Brien, Paul McCartney brought in noted jazz arranger and trumpeter, Richard Hewson to orchestrate many of the links that tie the songs together, creating a unique listening experience.
Paul McCartney and George Harrison guested on the song "Carolina On My Mind" which was the album's first single. One of the other songs recorded for the album was "Something In The Way She Moves" that provided George Harrison with the inspiration for his song "Something," which later topped the charts for The Beatles. Taylor also wrote and recorded an early version of "Fire And Rain" for the record, but the recording was ultimately rejected by Peter Asher. This version still remains unreleased.
Today's Song Of The Day was one of the songs specifically written about his stay at McLean Hospital, and it features a superb swingin' sixties horn chart. While the lyrics of the song are dead serious – "Just knocking around the zoo on a Thursday afternoon, There's bars on all the windows and they're counting up the spoons, yeah. And if I'm feeling edgy, there's a chick who's paid to be my slave, yeah, watch out James. But she'll hit me with a needle If she thinks I'm trying to misbehave" – Taylor's sly delivery and use of slang is most humorous.
For all of the drama surrounding the back story of the creation of the album, it did feature many lyrically upbeat songs including "Sunshine, Sunshine," "Taking It In," "Brighten Your Night With My Day" and "Circle Around The Sun."
Taylor relapsed into full-blown heroin addition during the sessions for the album and returned back to the states checking himself back into rehab before the album's release. Meanwhile, Apple released the album and the single "Carolina On My Mind" which both performed poorly on the charts, partially due to Taylor's inability to promote it.
As Apple Records began to crumble under the weight of its high ideals, a power struggle developed between Allen Klein who was brought in by Lennon, Harrison and Starr to clean things up, and Peter Asher was ultimately forced out. When Asher left, he agreed to take on the management of James Taylor, ending the artist's relationship with the label.
Shortly thereafter, Taylor was in a motorcycle accident in which he broke both hands and both feet, sidelining his career for months. While recuperating, Taylor wrote many of the songs that would make up his breakthrough album Sweet Baby James, which led to a new record deal with Warner Bros., and ultimate superstardom.